'Project X' Theatrical Trailer: Burning Down The House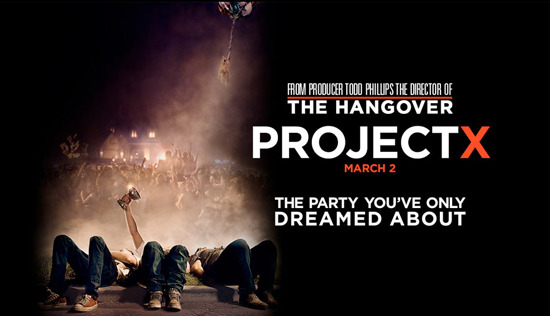 Last year we got a small taste of the party movie Project X, which thanks to the influence of producer Todd Phillips looks like Jackass, The Hangover, Superbad, and the worst nightmares of every parent rolled into one 90-minute extravaganza.
The full theatrical trailer has dropped, and it features a giant 'X' worth of promo screening reactions, and many more examples of reality-defying party insanity. Check it out after the jump.
I figure the responses to this will be a lot like those for the teaser. There will be the people who think it looks like exactly the crazy, hilarious movie that Phillips wants it to be; and then those who think it looks like the worst movie of 2012 so far. I'm not quite in the latter camp, but there's not much here that trumps a childhood worth of watching early MTV videos, where this sort of thing went on all the time. But then, this trailer does have that scene with the little guy in the oven, and I'd be lying if I said I didn't laugh at that. So...
Project X opens on March 2, but there will probably be several chances to see it before that date as Warner Bros. does more promo screenings.Apple has the HD trailer.
"Project X" follows three seemingly anonymous high school seniors as they attempt to finally make a name for themselves. Their idea is innocent enough: let's throw a party that no one will forget... but nothing could prepare them for this party. Word spreads quickly as dreams are ruined, records are blemished and legends are born. "Project X" is a warning to parents and police everywhere. This film has been rated R for crude and sexual content throughout, nudity, drugs, drinking, pervasive language, reckless behavior and mayhem-all involving teens.