Watch Carl Erik Rinsch's 'Escape The Map' Mercedes-Benz Interactive Short Film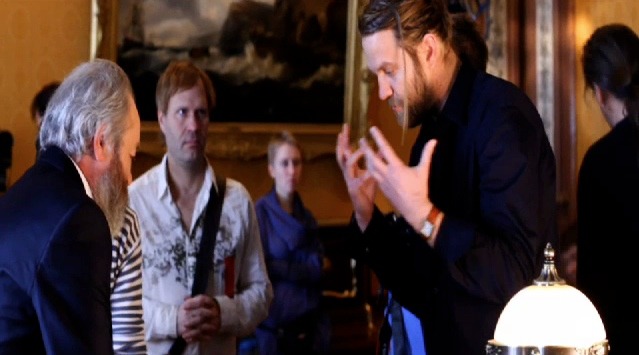 Commercial director Carl Erik Rinsch's big screen debut 47 Ronin won't hit theaters until November 2012, but he somehow found time to shoot a new short film/commercial for Mercedes-Benz during the film's post production period.
Rinsch's commercials show an amazing sense of imagination, visual effects artistry and composition. We've profiled his amazing commercials on the site, more than once. You might recall that Rinsch was originally tapped to direct a prequel/remake of Alien, before Fox convinced Ridley Scott to helm the project himself. Rinsch's futuristic action thriller short film The Gift quickly spread around the internet, sparking a bidding war to turn the short film into a feature. Before his first film is even finished, Rinsch has become one of the most in demand director's in new Hollywood — his name seems to appear on every other big tentpole short list these days.
"Escape The Map" is set inside the computer world — a virtually-rendered Hong Kong. It looks like something like what I imagine Rinsch would've have pitched for Tron: Legacy — the result looks kind of a mash-up of The Matrix and Inception. Mariah Bonner plays Marie, someone who finds herself and her C 63 AMG Coupé trapped inside Google Streetview. The short also features music created by Oscar-winning composer Atticus Ross' (The Social Network) company 1159.
I talked with Rinsch briefly about the short, and learned that Mercedes approached the filmmaker about doing something shot in Streetview. Carl pitched "what if you were stuck in streetview, and how would you escape." He calls it "a trippy film about losing your identitiy in the digital world." The entire world was created and rendered by Digital Domain. The film was shot in one day on his day off from editing and post production on Ronin.
"Jin [Akanishi] just came out with a number one hit, Keanu [Reeves] is killing it on his movie, Kô [Shibasaki] is on tour, Rinko [Kikuchi] is working with Guillermo [del Toro], and Ronin is looking better each day. Its looking amazing. Universal has been very supportive."
Play the interactive version of Escape the Map on escapethemap.co.uk. Or you can watch a video screencapture of it below — but I highly recommend playing it for yourself on the website.
For those of you who don't have the time, here is the 20 second tv commercial cut: