New Images From Pixar's 'Brave'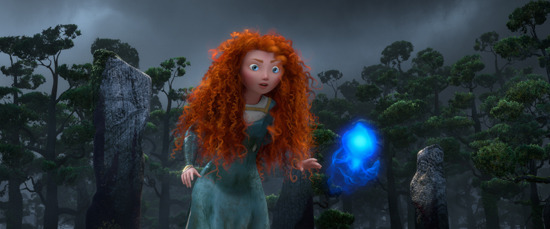 The trailer for Brave, Pixar's next full-length animated film, will arrive tomorrow. In anticipation of that look at the film three new stills have come online. The pics show most of the film's major characters, and reinforce the impression given off by the teaser that this might be Pixar's most fully-realized world.
Brave is Pixar's first film with a central female protagonist, and Kelly Macdonald voices Merida, a rebellious young princess who brings trouble to her land after breaking an ancient custom. That's her in the image above, and you'll meet other characters in the gallery below.
In one image below, you'll see Queen Elinor (Emma Thompson), King Fergus (Billy Connolly), Princess Merida, and triplets Princes Harris, Hubert and Hamish. The other pic shows Lord MacGuffin (Kevin McKidd), Lord Macintosh (Craig Ferguson) and Lord Dingwall (Robbie Coltrane).
In an AP piece (other images via Empire) co-director Mark Andrews describes Merida,
She's your anti-princess... She isn't your typical princess. She doesn't wear nice clothes except in a couple of scenes when her strict mom, Queen Elinor, makes her do it for special functions. She's an active and action-oriented person. She wants to get out in the outdoors of the Highlands, escaping from castle life and exploring the woods.
Brave hits theaters on June 22, 2012. Check out the teaser trailer here.
Since ancient times, stories of epic battles and mystical legends have been passed through the generations across the rugged and mysterious Highlands of Scotland. In "Brave," a new tale joins the lore when the courageous Merida (voice of Kelly Macdonald) confronts tradition, destiny and the fiercest of beasts.
Merida is a skilled archer and impetuous daughter of King Fergus (voice of Billy Connolly) and Queen Elinor (voice of Emma Thompson). Determined to carve her own path in life, Merida defies an age-old custom sacred to the uproarious lords of the land: massive Lord MacGuffin (voice of Kevin McKidd), surly Lord Macintosh (voice of Craig Ferguson) and cantankerous Lord Dingwall (voice of Robbie Coltrane). Merida's actions inadvertently unleash chaos and fury in the kingdom, and when she turns to an eccentric old Wise Woman (voice of Julie Walters) for help, she is granted an ill-fated wish. The ensuing peril forces Merida to discover the meaning of true bravery in order to undo a beastly curse before it's too late.