Watch Three New Clips From Jason Reitman's 'Young Adult'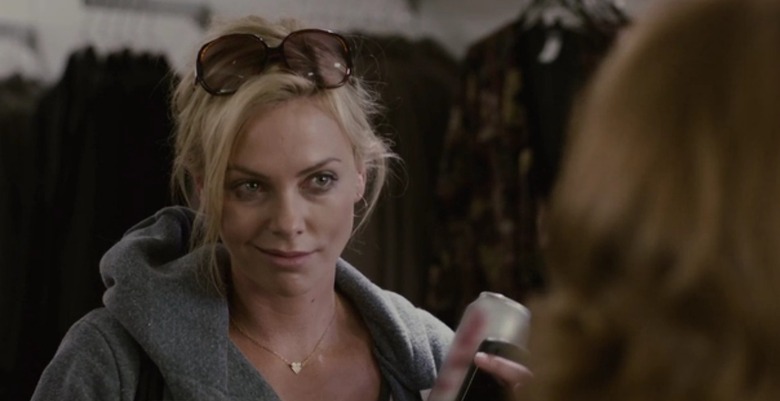 If you haven't been lucky enough to catch Paramount's unannounced screenings of Young Adult in your town, you can still get an early look at the film here in the form of three newly released clips. Jason Reitman's latest collaboration with Juno writer Diablo Cody stars Charlize Theron as young adult author Mavis Gary, who returns to her hometown and attempts to win back her now-married high school sweetheart (Patrick Wilson).
The buzz around the film is that it's almost uncomfortably dark, with Mavis as an interesting but very unlikeable character — and these clips seem to confirm just how messed-up she is, as she faces off against a hotel worker, fails to remember an ex-classmate played by Patton Oswalt, and schemes to steal her ex-boyfriend from his wife. Watch them after the jump.
[via Perez Hilton]
[via Moviefone]
[Apple via The Playlist]
None of these scenes are really laugh-out-loud funny, but they've got a darkly comedic tone I really enjoy. I particularly love the one of Mavis shopping for an outfit with which to intimidate her ex's wife (played by Elizabeth Reaser), as it fits very well with everything we've heard about how unapologetically horrible Mavis is. (Reitman himself has likened the film to such recent unlikable-protagonist hits as Greenberg and Rachel Getting Married.) And the usually comedic Oswalt appears to acquit himself quite nicely as well, in another dramatic(ish) role.
Young Adult hits theaters December 16, 2011.
Synopsis:
Academy Award(R) winner Charlize Theron plays Mavis Gary, a writer of teen literature who returns to her small hometown to relive her glory days and attempt to reclaim her happily married high school sweetheart (Patrick Wilson). When returning home proves more difficult than she thought, Mavis forms an unusual bond with a former classmate (Patton Oswalt) who hasn't quite gotten over high school, either.