'The Iron Lady' UK Trailer: Meryl Streep Will Overcome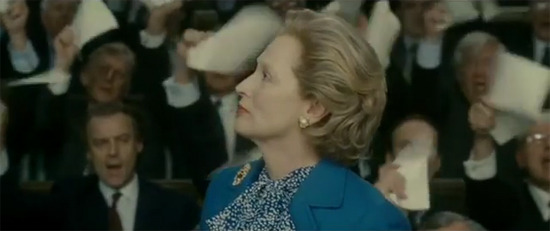 Here's the full UK trailer for The Iron Lady, in which Meryl Streep plays a strangely attractive version of former British Prime Minister Margaret Thatcher.
There's a lot of fire in Streep's performance that will will likely overwhelm any complaints about a lack of authenticity. This trailer is a little bit The King's Speech, and a little bit poppy thanks to the tongue-in-cheek use of 'Our House' by Madness, but in general it gets across the idea of Thatcher as a determined and iron-willed leader. Check it out below.
I still don't know what to expect from this film: Thatcher as a union-busting leader who pushed an unnecessary war in the Falkland Islands, or a woman who rose to a difficult position of power despite culturally ingrained opposition. There is room for both; I just pray this won't be another toothless political biopic along the lines of J. Edgar.
The Iron Lady will hit U.S. theaters on December 16, 2011. U.K. moviegoers will have to wait a bit longer, as the film opens there January 6, 2012.
THE IRON LADY is a surprising and intimate portrait of Margaret Thatcher, the first and only female Prime Minister of the United Kingdom. One of the 20th century's most famous and influential women, she came from nowhere to smash through barriers of gender and class to be heard in a male dominated world.
This is a film about power and the price that is paid for power, a story that is both unique and universal.