Warner Bros. Greenlights 'Lego,' With 'Robot Chicken' Director Co-Directing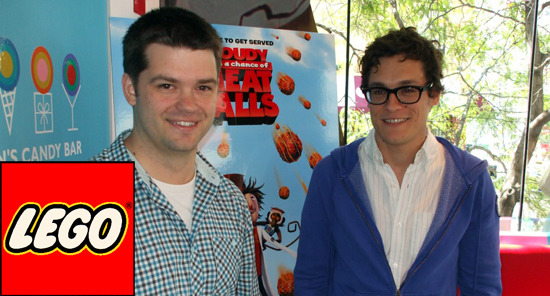 That Lego movie that Warner Bros. has been developing for several years is really happening now. Last year Chris Lord and Phil Miller, writers and directors of the great CGI animated film Cloudy With a Chance of Meatballs, were hired to direct the movie. Now Warner Bros. has greenlit their Lego approach, which will be a live-action/animation hybrid, with about 80% of the film animated at Australian animation house Animal Logic (Legend of the Guardians: The Owls of Ga'Hoole).
But there's an additional name in the mix, too: Robot Chicken director Chris McKay has been enlisted to co-direct with Lord and Miller.
Variety doesn't offer any more story details than the very basic statement that the film will be "an action-adventure set in the Lego world." Over a year ago, however, Lord said,
I don't know how we're exactly going to execute it, but I would say the vast majority of the film takes place in an immersive all-Lego environment.  So it's going to star mini-figs and we've created these really cool characters and a really nice character story between these mini-figs.  And it's going to take place in a universe that's made entirely out of Lego to the point where if there's water or clouds or like a big explosion, that will be made out of animated Legos.  And our goal was to make it look like a super charged stop-motion.  Something like if Michael Bay kidnapped Henry Selick to make a movie for him.
And with stop-motion director Chris McKay on board, that last bolded statement might be a step closer to reality, even if the film will be CGI rather than stop-motion. Lego has recently expanded a deal to make licensed toys based on Warner properties, but we don't know at this point if any of those licensing deals will show up in the film, or if the movie will rely only on unbranded, classic Lego images.
Lord and Miller are finishing up 21 Jump Street now, but Variety says Animal Logic and Australian film officials will give more Lego details next week at a press conference to announce the start of production at Animal Logic.
The film will take quite a bit of time to animate, and WB has set a wide release window of 2014 for the movie.