Steve Carell To Star In Dave Barry Adaptation 'Lunatics'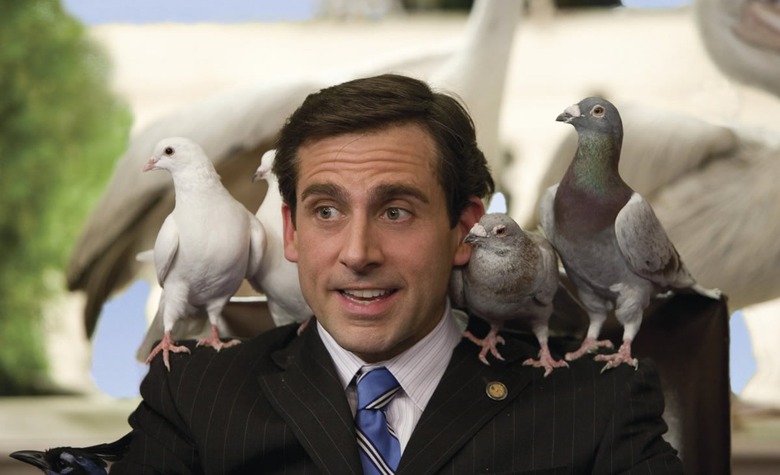 We may receive a commission on purchases made from links.
While Steve Carell has obviously been trying to branch out beyond his funnyman roots with some of his recent choices, the latest addition to his crowded slate sounds more like classic Carell. The very busy actor is attached to produce and star in Universal Pictures' Lunatics, a big-screen adaptation of Dave Barry and Alan Zweibel's forthcoming novel. Carell will play one of two suburbanites who get involved in a petty feud, with unexpectedly far-reaching consequences. More details after the jump.
Barry and Zweibel's book, which hits stores in January, centers around two New Jersey soccer dads whose tiff escalates to global proportions. The two then find themselves going on the run as they're chased by a variety of colorful characters including "police, soldiers, terrorists, subversives, bears, and a man dressed as Chuck E. Cheese."
Deadline reports that Carell will play Philip Horkman, a generally content pet store owner who spends his Sundays refereeing children's soccer. The other main character — cranky Jeffrey Peckerman, who happens to be having an especially bad day when he crosses paths with Philip — has yet to be cast.
Zweibel has a long history with comedy writing, having worked on Saturday Night Live and It's Garry Shandling's Show, and is currently writing an HBO pilot for former Laverne & Shirley star Penny Marshall. Humorist Barry has received a Pulitzer Prize for his column in the Miami Herald. Zweibel and Barry will adapt their own novel for the big screen.