'Steve Jobs: The Lost Interview' Teaser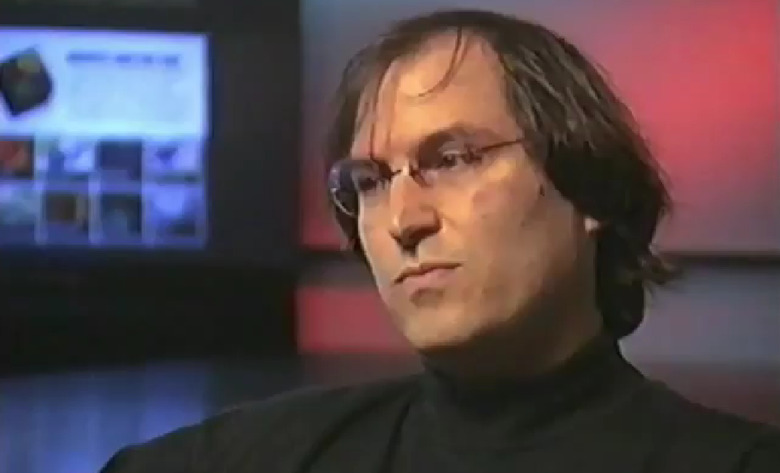 That Sony Pictures biopic of late tech giant Steve Jobs is still in the early stages of development, but Jobs' familiar facade will be gracing a small handful of screens across the country in just one week. As we reported earlier this week, a 70-minute film titled Steve Jobs: The Lost Interview will be hitting certain Landmark theaters next week on November 16 and 17.
The footage comes from a 1995 interview Jobs did with Robert X. Cringely for a miniseries titled Triumph of the Nerds: The Rise of Accidental Empires, and the vast majority of it has never been seen by the public before. We now have the first teaser for The Lost Interview, which you can watch after the jump.
[via The Hollywood Reporter]
As the story goes, Cringely wound up using just 10 minutes of the 70-minute conversation for Triumph of the Nerds, and some years later realized he'd lost the rest of the recording. But shortly after Jobs' passing, Triumph of the Nerds director Paul Sen found a VHS tape of the full edit in his garage, and he passed the tape along to Cringely. Cringely then got in touch with Landmark Theatres' Mark Cuban, and the two quickly prepared the VHS dub for a theatrical presentation.
I don't know that I'd call this a good trailer by any traditional standard, but then again, The Lost Interview isn't really a traditional film. The teaser doesn't promise any new or earth-shaking discoveries, just a look at, as Cringely puts it, "Steve Jobs at his charismatic best: witty, outspoken, brilliant, visionary, a one-of-a-kind entrepreneur at the top of his game, and seen as never before."
Is there a whiff of cynicism about the whole endeavor? Perhaps. But that doesn't necessarily mean the film has nothing to offer. /Filmcast host Devindra, for one, has praised (in an article for Venture Beat) an early cut of the documentary as "a must-watch, bittersweet glimpse at Jobs' genius."
Once again, here's the list of theaters that'll be showing the interview:
ATLANTA, GA at the Midtown Art Cinema
BALTIMORE, MD at the Harbor East
BERKELEY, CA at the Shattuck Cinemas
BOSTON, MA at the Kendall Square Cinema
CHICAGO, IL at Landmark's Century Centre Cinema
DALLAS, TX at The Magnolia
DENVER, CO at the Esquire Theatre
HOUSTON, TX at the River Oaks Theatre
INDIANAPOLIS, IN at the Keystone Art Cinema
LOS ANGELES, CA at the Regent Theatre
MILWAUKEE, WI at the Oriental Theatre
MINNEAPOLIS, MN at the Lagoon Cinema
NEW YORK, NY at the Sunshine Cinema
PALO ALTO, CA at the Aquarius Theatre
PHILADELPHIA, PA at the Ritz at the Bourse
SAN DIEGO, CA at the Hillcrest Cinemas
SAN FRANCISCO, CA at the Opera Plaza Cinema
SEATTLE, WA at the Metro Cinemas
WASHINGTON, DC at the E Street Cinema