The Muppets Tackle Bollywood In One Last(?) Parody Trailer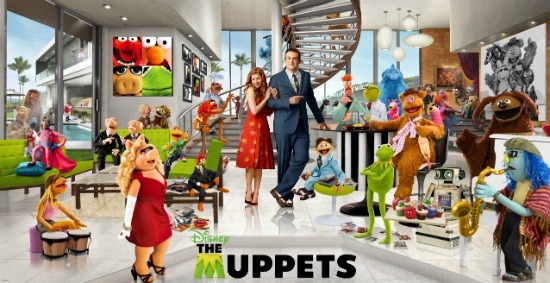 We thought we'd seen the last of The Muppets parody trailers with that one parody trailer that parodied the Muppets' own parody trailers (so meta!), but our fuzzy friends are apparently having some trouble breaking their addiction. So Kermit and company are back for one more round, with Bollywood as the latest target of their gentle ribbing. There isn't much about this trailer that's really new, but in typical Muppets fashion it's adorable, self-aware, and above all, fun. Watch the trailer after the jump.
[Empire via The Playlist]
According to Bollywood Life, the song used is "Rabba rabba," from the 2001 film Aks. If the voice sounds familiar, that may be because you recognize singer Sukhwinder Singh from the Slumdog Millionaire song "Jai Ho."
As we get closer to The Muppets' November 23 opening date, the marketing team for the film has really been ramping things up. Last week saw the release of four clips from the movie plus an appearance on WWE Monday Night Raw, and this week has brought us the opening musical number as well as an on-set featurette. And that's not even counting the (probably unsuccessful) Oscar-hosting campaign that's been circulating for the past 24 hours or so.
Directed by James Bobin, The Muppets stars Jason Segel, Amy Adams, Chris Cooper, a host of (human) celebrity cameos, and pretty much every Muppet you can think of. Here's the official synopsis:
On vacation in Los Angeles, Walter, the world's biggest Muppet fan, and his friends Gary (Jason Segel) and Mary (Amy Adams) from Smalltown, USA, discover the nefarious plan of oilman Tex Richman (Chris Cooper) to raze the Muppet Theater and drill for the oil recently discovered beneath the Muppets' former stomping grounds. To stage The Greatest Muppet Telethon Ever and raise the $10 million needed to save the theater, Walter, Mary and Gary help Kermit reunite the Muppets, who have all gone their separate ways: Fozzie now performs with a Reno casino tribute band called the Moopets, Miss Piggy is a plus-size fashion editor at Vogue Paris, Animal is in a Santa Barbara clinic for anger management, and Gonzo is a high-powered plumbing magnate. With secret, signature, celebrity cameos, "The Muppets" hits the big screen Nov. 23, 2011.