'A Thousand Words' Trailer: Stalling The Eddie Murphy Comeback Train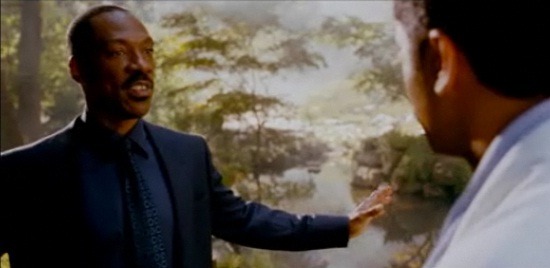 Before the whole Eddie Murphy/Brett Ratner/Oscars thing started, we told you that the movie A Thousand Words, which shot with Murphy starring in 2008, was finally going to be released. Shelved for years and destroyed in test screening reviews, the movie was set for a January 2012 date, and then moved to March 23 2012, likely to capitalize on the public interest bump Paramount assumed Murphy would get from hosting the Oscars.
But the real mistake may not have been assuming the Oscar deal was going to work out, but rather making this movie in the first place.
Directed by Norbit and Meet Dave helmer Brian Robbins, A Thousand Words sees Eddie Murphy playing a lying jerk who is cursed and finds he has only a thousand words left to speak, after which he will die. What follows doesn't look so much like a character-building re-evaluation of his life, but a lot of silly pantomiming and jokes that sullenly refuse to work. Check out a trailer below, if you think you're strong enough.
There's a lot of Liar, Liar in there, and A Thousand Words manages to make that look like a stone-cold comedy masterpiece. It also appears to provide a master class in how to make everyone involved look terrible. Clark Duke might escape somewhat unscathed, but I don't think I can assume the same for Jack McBrayer. [via Shadow and Act]