Early Buzz: Rian Johnson's 'Looper'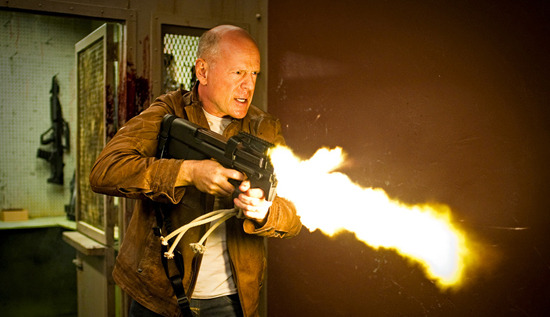 One of our most anticipated 2012 releases is Looper, which comes from Brick and The Brothers Bloom director Rian Johnson. The movie shot some time ago, but will not be distributed until next year, and the wait is one I'm not suffering patiently.
Looper is a time travel movie, of sorts. It stars Bruce Willis (in the first still from the film, above) and Joseph Gordon-Levitt as two men on opposite ends of a timeline. The central conceit is that there is a society in which time travel exists and is banned. Time-travel tech is still in use, however, as an execution tool: gangsters send targets back in time. When the target lands in the past, specialized hit men, 'loopers,' make the kill. But what happens when a target escapes the execution? And what further complications ensue when the target is the future self of the looper meant to pull the trigger?
New reports from a Looper test screening are not going to make the wait any easier. A few high profile web writers caught the film, and their opinion of the film, which was shown in unfinished form, is extremely high.
Note that I've avoided passing on any comments from reviews in which specific plot or character details are mentioned. Follow through to the full articles for a lot more detail, but if you only want to get a basic overview of what people think about the film as it is now, stick to what I've presented below.
Devin at Badass Digest says,
Looper represents a major leap for Johnson, a huge step forward in style and scope. It's smart and funny and thrilling, the kind of science fiction movie that wildly entertains while never shortchanging characters or ideas. Johnson tackles time travel with confidence; at first the rules are waved away, but eventually the ways that time travel works begins to become clear to us. The rules have to work, because Looper is tight as a drum, and any hiccup in how things work would send the story careening.
Looper is set in a strongly sketched future world that's just about two weeks from today. It's a film dotted with small details that feel thoroughly thought out, reminding me of what Duncan Jones did with Moon.
There may yet be changes to Looper, but the movie I saw was great. Bigger than Johnson's last two films, Looper has one thing in common with them – like Brick and Brothers Bloom it's a film that plays in a genre, but never at the expense of characters. This is an action film, and Johnson proves that not only does he have excellent action chops, he has interesting ideas on how to shoot his action so that it doesn't look like every other action scene you've ever seen. Looper proves that Johnson is ready to move into the big, expensive movie game, and that he has the kind of instincts that might allow him to make a big, expensive movie that's actually good.
Jeremy Smith at AICN says of the core idea,
it's examined in the mainstream-skewing framework of a crackerjack sci-fi/action flick that recalls the genre-blending daring of the '70s and '80s. And it's not just a time travel movie. Just when LOOPER seems to be settling into one type of film, it veers off in another direction, then settles down again, then goes absolutely bonkers without sacrificing clarity of story or theme. This is masterful filmmaking – a stirring reminder that genre entertainment can be both smart and accessible.
LOOPER is an intricately structured story enlivened by Johnson's trademark wit and wounded romanticism. It's an invigorating, thrilling, ceaselessly inventive film, a miracle in an era of by-committee studio filmmaking. And while it's still months from being finished, barring any postproduction monkey business, it's already a great movie.
And Mike D'Angelo, a critic who has done Cannes coverage for the AV Club, among much other work, said via Twitter:
Apparently it's now ok to reveal that I've seen @rcjohnso's LOOPER and it's damn good. Takes a brilliant premise & thrillingly subverts it. (Rian's a friend so apply salt as needed. But the test-screening reviews—of a cut two months further along than what I saw—seem to concur.) I should note that "damn good" is an extremely qualified assessment of a film that was a long long way from finished. My love may grow... It begins with a terrific, unique idea and then doesn't go at all where you'd expect with it. Esp. w/r/t Bruce Willis.
Not having seen the film I can't add much, but as a great fan of Johnson's two previous films I am thrilled to hear such an enthusiastic response. I've harbored high hopes for Looper based on the premise, and also on the fact that Primer writer/director Shane Carruth worked with Johnson on the film. We'll see what changes over the many months between now and Looper's release, but these early reviews are going to make the period between now and Looper's Sept 2012 release date a lot more difficult to sit through.