Jason Segel Considering A Children's Adventure - With Puppets, Of Course - For Next Film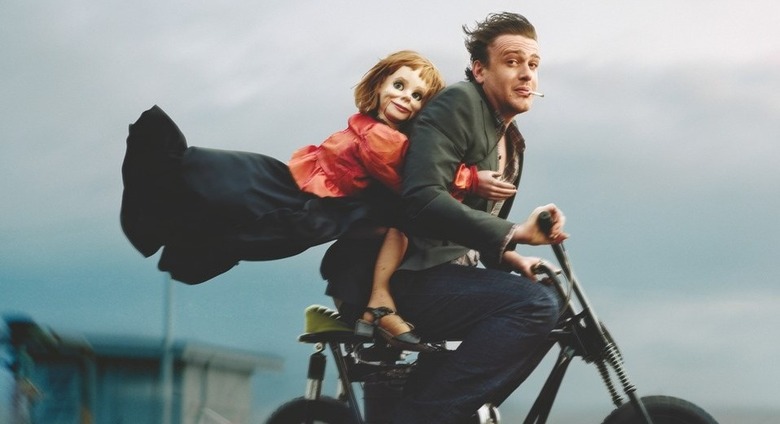 Jason Segel is probably most recognizable to moviegoers as the star of such R-rated comedies as Knocked Up and Forgetting Sarah Marshall (in which he did full-frontal male nudity before Michael Fassbender made it cool). But his next big screen appearance will be in Thanksgiving's all-ages movie The Muppets, which he wrote with Forgetting Sarah Marshall director Nicholas Stoller, and it seems he plans to stick with the family-friendly fare for the time being.
In a recent interview, the actor and screenwriter revealed that he's considering a children's adventure movie in the vein of Goonies for his next big project, which will also involve puppets. More details on that, plus info on his other upcoming films, after the jump.
I actually just got back into possession my first script I ever sold when I was 21-years-old. It sat on a shelf and they didn't know that it was the same Jason Segel. I came to them because the contract was up and I went to buy it up and they were like, 'No, wait, that was you? That was your script?' And I was like, 'Yep, sorry dudes.' So I now own it and I want to make it. It's a kids adventure movie in the style of 'Goonies' or 'Labyrinth' or something like that. I think that's the next big thing I'd like to try to tackle.
Which would be promising enough already, given that advance buzz on The Muppets has been promising, but Segel makes things even more enticing by talking up a whole new kind of puppet he might use for the movie. "[T]here could be puppets involved. I have an idea for a type of puppet I've never seen before," he revealed.
However, Segel was loath to offer too many details. "I don't want anyone to steal [the idea] yet," he said. As for how exactly he'd be involved in the project, Segel hasn't quite decided: "There are parts I could play, but I'd be happy to just produce it."
But those who prefer their Segel raunchy and inappropriate needn't fret. Segel's already finished filming The Five-Year Engagement and This is Forty, both Judd Apatow-produced (and in Forty's case, Apatow-directed) movies that are bound to be on the racier side. Segel confirmed to the site that he would be reprising his character from Knocked Up for This is Forty, a spinoff centered around Paul Rudd and Leslie Mann's married couple from the first film — though not for very long. "It's the same character and it's only a few scenes," he said. "I just pop in. It was kind of like a cameo that I did in that, which was fun."
It's not every actor who can straddle family films and grown-up comedies, but Segel's combination of sweetness and irreverence suggests he stands a better chance than most at pulling off both. Segel's The Muppets, directed by James Bobin and starring Segel, Amy Adams, and Chris Cooper, hits theaters November 23, 2011. Next year already has a trio of Segel pictures lined up: Segel's Duplass Brothers-directed indie Jeff Who Lives at Home is due March 2, 2012, while The Five-Year Engagement will bow April 27, 2012. This is Forty (or whatever the movie will eventually be called) is slated for a December 21, 2012 opening.