Mickey Rourke Out Of 'Seven Psychopaths,' Disparages Director Martin McDonagh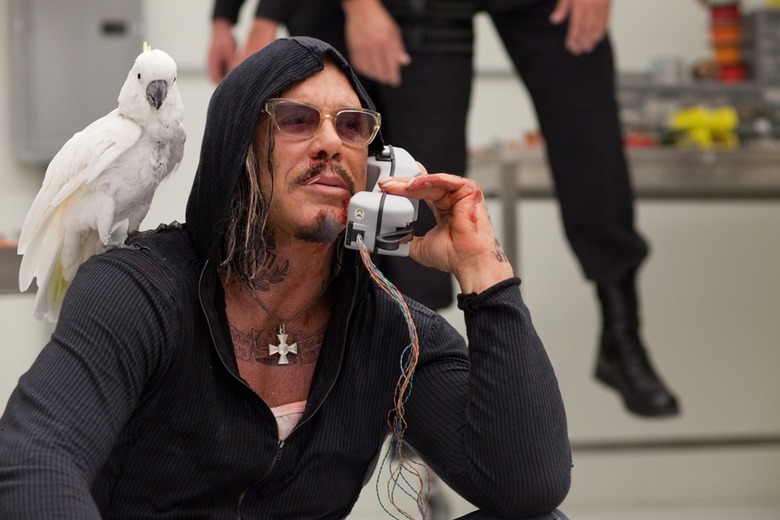 So now Martin McDonagh's new movie only has six psychopaths. The director of In Bruges excited a few of us months back when it was revealed that he'd finally be making a new movie, and that Colin Farrell, Sam Rockwell, Christopher Walken and Mickey Rourke were on board.
The picture, Seven Psychopaths, is one that McDonagh talked about a few times years ago when promoting In Bruges, and the fact that it is finally moving forward is reason to celebrate. Unless you're Mickey Rourke, that is, who decided McDonagh wanted too much from him. He has bailed on the project, and is talking about it in characteristically undiplomatic terms.
Moviefone talked to Rourke while he promoted Immortals, and the actor said of McDonagh, "The director was a jerkoff. He wanted a whole lot for nothing." The site asked Rourke to confirm that he won't be in the movie, and his reply was "He can go play with himself."
So... that's a no?
Here's the synopsis we've got for Seven Psychopaths, via Collider:
From Oscar-winning writer and director Martin McDonagh comes a star-studded, blood-drenched, black comedy. Marty (Colin Farrell) is a struggling writer who dreams of finishing his screenplay Seven Psychopaths. All he needs is a little focus and inspiration. Billy (Sam Rockwell) is Marty's best friend, an unemployed actor and part time dog thief, who wants to help Marty by any means necessary. Hans (Christopher Walken) is Billy's partner in crime. A religious man with a violent past. Charlie is the psychopathetic gangster whose beloved dog, Billy and Hans have just stolen. Charlie's unpredictable, extremely violent and wouldn't think twice about killing anyone or anything associated with the theft. Marty is going to get all the focus and inspiration he needs, just as long as he lives to tell the tale.
Frankly, this doesn't seem like a huge loss. Rouke can be a great talent, but he seems like a guy who is only willing or able to give his best under very specific circumstances. Not everyone can be Darren Aronofsky, who was able to go toe to toe with Rourke on The Wrestler. The actor has been in a half-dozen films since The Wrestler, and for how many of those has he really been an asset? Not many. (I haven't had a chance to see Immortals; maybe he's great in it.) Frankly, I'd much rather see whatever McDonagh has cooking, than another three middling action movies from Rourke.