'21 Jump Street' Green Band Trailer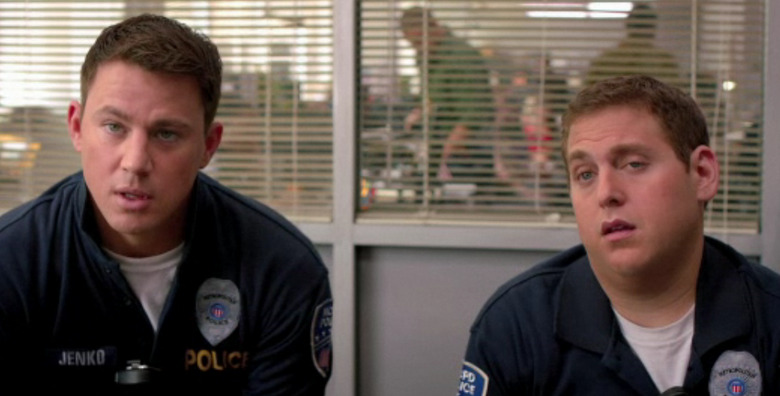 The new 21 Jump Street obviously doesn't have a whole lot in common with the '80s series it's based on, aside from than the basic premise (undercover cops posing as high-schoolers) and an appearance by the still-dreamy Johnny Depp. So it's probably not fair to judge it as an adaptation of the TV show. On its own merits, though, it appears to be a pretty decent buddy cop action-comedy. Last week's red-band trailer made me laugh, and this week's green-band trailer did as well. Probably because it's mostly the same thing, only with less profanity.
Jonah Hill and Channing Tatum star as a pair of supposedly youthful-looking cops who get assigned to a certain "cancelled undercover program from the '80s," as their boss (Nick Offerman) puts it. Watch the SFW version of the trailer after the jump.
[via Yahoo!]
There's really nothing groundbreaking about this film — at least, not that we've seen so far — but if all you're looking for is some goofy fun, 21 Jump Street will probably deliver. Hill and Tatum, in particular, seem to have a surprising amount of comedic chemistry. Who'd have guessed?
Directed by Cloudy with a Chance of Meatballs helmers Phil Lord and Chris Miller and starring Brie Larson, Dave Franco, Rob Riggle, and Ice Cube in addition to Hill and Tatum, 21 Jump Street hits theaters March 16, 2012.
Synopsis:
In the action-comedy 21 Jump Street, Schmidt (Jonah Hill) and Jenko (Channing Tatum) are more than ready to leave their adolescent problems behind. Joining the police force and the secret Jump Street unit, they use their youthful appearances to go undercover in a local high school. As they trade in their guns and badges for backpacks, Schmidt and Jenko risk their lives to investigate a violent and dangerous drug ring. But they find that high school is nothing like they left it just a few years earlier – and neither expects that they will have to confront the terror and anxiety of being a teenager again and all the issues they thought they had left behind.