Steven Soderbergh's 'Haywire' Premieres At AFI Fest In Hollywood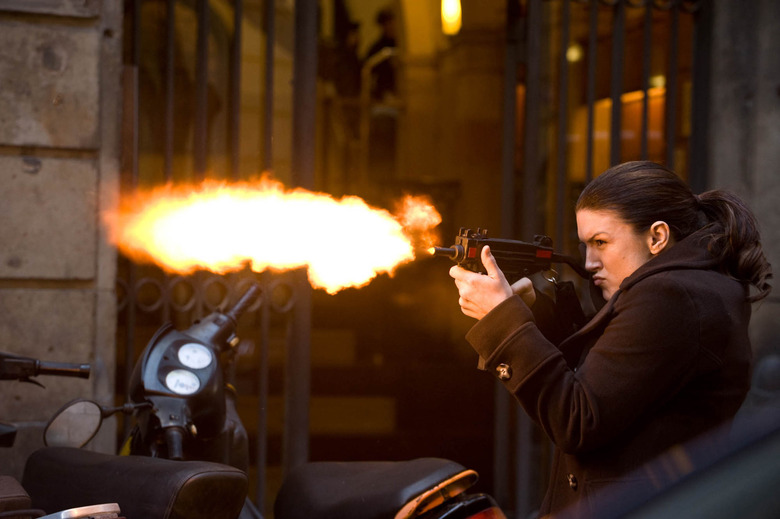 Odds are when you first saw the trailer for Haywire, Steven Soderbergh's action film starring MMA fighter Gina Carano, you thought, "Why is a Steven Soderbergh movie starring Michael Fassbender, Ewan McGregor, Michael Douglas, Channing Tatum and Antonio Banderas coming out in January?" January is an odd movie month as it's generally a place studios can release films they're unsure about. It doesn't necessarily mean they're bad, just without obvious award or blockbuster potential and such is the case with Haywire. It's an understated, down-the-middle action/spy film elevated by Soderbergh's direction.  Haywire basically comes off as an exercise to watch an attractive woman beat the crap out of a bunch of famous guys.
The film had its world premiere in Grauman's Chinese Theater Sunday night as part of the 25th annual AFI Fest Presented by Audi. Read some thoughts after the jump.
Haywire's DNA developed on the night when Steven Soderbergh saw Gina Carano, one of the best known female mixed martial artists in the world, fighting on TV. He thought she'd make an imposing screen presence and decided to develop a film around her. The result sees Carano as Mallory, an in-demand gun for hire who gets framed for murder and ends up on the run. Story isn't of much consequence here though, nor does it make much sense. All you need to know is Mallory is mad and when she's cornered, she'll throw a triangle choke on you.
The fight scenes in Haywire are highly entertaining. All the actors did their own stunts and, with Soderbergh behind the camera, they have a strong sense of realism and weight. Plus, when Carano is simply a presence, she's supremely bad ass and magnetic. When the movie isn't showcasing Carano's physical talents, though, her shortcomings are on full display. In a film filled with phenomenal actors, she's simply outclassed. Her speaking scenes always feel like she's trying too hard. To her credit, it's not an awful performance, just an elementary one and even when she's being blown off the screen by Fassbender or Douglas, you can't take your eyes off her. She's a star in the making. Her acting just has a long way to go before it can live up to her fighting.
Soderbergh's direction is what truly distinguishes Haywire for good and bad. Everything from way the film is edited, the shot selection, David Holmes's (who also did the Ocean's films) mellow score to the choice of fonts alerting us to the international setting, is all done with a delicate precision. It takes a very familiar action story and makes it feel like a muted version of a Bourne movie. There's nary a moment that's pulse pumping or hyper kinetic like we've become accustom too, which is kind of refreshing. If that's something you crave in your action, Haywire might put you to sleep. But if your eager for something a little more subtle, you'll enjoy it.
Haywire is a typical action movie wrapped in atypical action skin. From the brain of Steven Soderbergh, we'd expect nothing less. Just maybe a little more. It's scheduled for release January 20, 2012.