First Look: Bill Murray As FDR In 'Hyde Park On Hudson'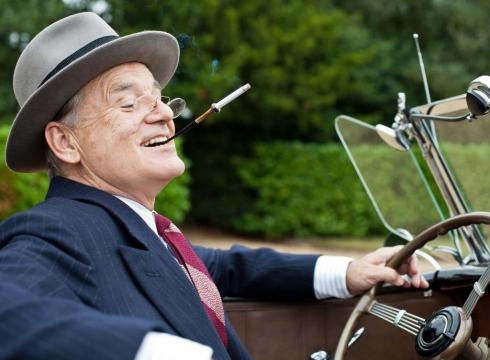 Forget Ghostbusters III — Bill Murray has some potentially great stuff coming out. He shot a part in the new Wes Anderson film, Moonrise Kingdom, and will have a role in Roman Coppola's second feature, A Glimpse Inside the Mind of Charles Swan III. And in between those, he played President Franklin Delano Roosevelt in a film called Hyde Park on Hudson.
That's the first look at Murray as FDR, above, and unfortunately it's all we've got right now. But hit the jump to have another look at the details of the movie, in the event you passed over it the couple times we've reported on it in the past.
Richard Nelson scripted Hyde Park on Hudson based on his own play, which in turn was based on the 1939 visit by King George VI and Queen Elizabeth to America — the royal couple's first appearance on these shores. There was a certain culture clash during the visit, but relations between the US and England were greatly strengthened. And at the time, the play says, FDR and his distant cousin Margaret Stuckley (aka Daisy) were in the midst of an illicit affair.
Murray plays FDR, Olivia Williams (Rushmore) is Eleanor, and Laura Linney is Daisey, while Samuel West and Olivia Colman play the royals.
Roger Michell directed and tells USA Today that Murray was the only choice to play FDR. But, no surprise to anyone who follows the development of films that hope to cast him, Murray wasn't easy to pin down.
It was a very complicated dance and made life difficult for me while prepping the film. I wouldn't have done it without him. But after a year of waiting, I received a wonderful text that said, 'Yes, I'll do it.'
Michell praises Murray's dedication to capturing FDR's many mannerisms, and the subtleties of his polio-derived paralysis.
He rose to the challenge magnificently... We put Bill in touch with people who have polio and with a physiotherapist, who made calipers and taught him how to walk with them... He captured the voice of the man, the tilt of his chin, that trademark cigarette holder and his way of spreading confidence.
I'm excited to see footage from this one — Murray is a consistently entertaining presence, and can project a great subtlety, vulnerability and even tenderness. But this sounds like it could be a rare performance that pushes him into material that is outside the realm of what we expect to see from Murray.
No reigning British monarch had ever been to the United States before George VI's visit in 1939, just on the cusp of a new world war. History was in the making when the King and Queen arrived at President Roosevelt's upstate New York home, with a promise of politics, a picnic and hot dogs. But the private life of the President provided a whole new dimension to an epochal moment, at least in the memory of his lover.
(Note: it has been claimed by some research that FDR actually suffered Guillain–Barré syndrome rather than polio.)