'Safe House' Trailer; Denzel Washington And Ryan Reynolds Star In CIA Thriller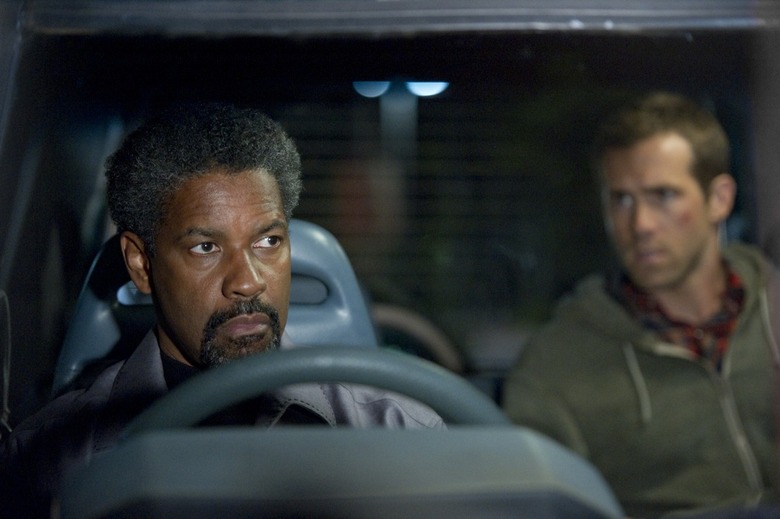 Safe House is one of those movies we've been tracking for a very long time. We wrote about it when the David Guggenheim penned thriller sold on spec, then again when it made the Black List, and all the way through casting which included Denzel Washington, Ryan Reynolds, Brendan Gleeson, Sam Shepard, Vera Farmiga and others. Wednesday we got our first official glimpse at an image from the film and Universal has wasted no time, following that with the first trailer.
Directed by Daniel Espinosa (who did the buzzed about Swedish crime film Snabba Cash), Safe House tells the story of a dangerous CIA defector (Washington) who is forced to team with a rookie agent (Reynolds) when a CIA safe house is attacked. It's scheduled for release February 10. Watch the trailer after the jump.
Head over to Apple for the high definition version of the trailer.
Here's the official plot synopsis:
Oscar winner Denzel Washington and Ryan Reynolds star in the action-thriller Safe House. Washington plays the most dangerous renegade from the CIA, who comes back onto the grid after a decade on the run. When the South African safe house he's remanded to is attacked by mercenaries, a rookie operative (Reynolds) escapes with him. Now, the unlikely allies must stay alive long enough to uncover who wants them dead.
For the past year, Matt Weston has been frustrated by his inactive, backwater post in Cape Town. A "housekeeper" who aspires to be a full-fledged agent, the loyal company man has been waiting for an opportunity to prove himself. When the first and only occupant he's had proves to be the most dangerous man he's ever met, Weston readies for duty.
Tobin Frost has eluded capture for almost a decade. One of the best ops men that the CIA's known, the ex-intelligence officer has given up assets and sold military intel to anyone with cash since he turned. From trading secrets to North Korea to aiding splinter cells, the damage he's done to the U.S. is immeasurable. And he's now back on the reservation with a secret.
As soon as Frost is brought in for debriefing, mercenaries come and tear apart Weston's safe house. Barely escaping, the unlikely partners must discover if their attackers have been sent by terrorists or someone on the inside who will kill anyone standing in the way. Now it's up to Weston to figure out who he can trust before they're both eliminated from the game.
So, what do you think?