Four New Clips From 'The Muppets'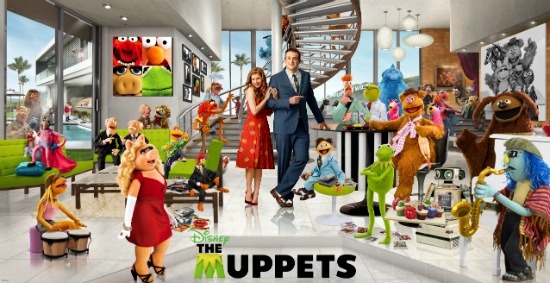 Four new clips, three weeks to go and over two minutes of footage. Those are today's numbers for The Muppets, the big screen return, after twelve years, of everyone's favorite lovable puppet pals. Four new clips, clocking in at over two minutes of footage, have made it online today and, after the jump, you see the new Muppet Walter get surprised by Gary (Jason Segel), a great idea about how to find Kermit The Frog, a little breaking and entering and Miss Piggy lay the smack down.
Here are the four clips from The Muppets, which is scheduled for release November 23. It's directed by James Bobin and stars Jason Segel, Amy Adams, Chris Cooper, Rashida Jones and all your favorite Muppets.
Surprise Tickets -
Idea -
Breaking in (thanks to Hollywood.com for this one) -
Showdown -
If you watch those clips and think, "what the heck is going on?" Maybe this plot description will fill in some of the blanks:
On vacation in Los Angeles, Walter, the world's biggest Muppet fan, his brother Gary (Jason Segel) and Gary's girlfriend Mary (Amy Adams) from Smalltown, USA, discover the nefarious plan of oilman Tex Richman (Chris Cooper) to raze the Muppet Theater and drill for the oil recently discovered beneath the Muppets' former stomping grounds. To stage a telethon and raise the $10 million needed to save the theater, Walter, Mary and Gary help Kermit reunite the Muppets, who have all gone their separate ways: Fozzie now performs with a Reno casino tribute band called the Moopets, Miss Piggy is a plus-size fashion editor at Vogue Paris, Animal is in a Santa Barbara clinic for anger management, and Gonzo is a high-powered plumbing magnate. With signature celebrity cameos, Disney's "The Muppets" hits the big screen Nov. 23, 2011.
Are you finally ready to see this film?