'We Bought A Zoo' International Trailer - A Return To Form For Cameron Crowe?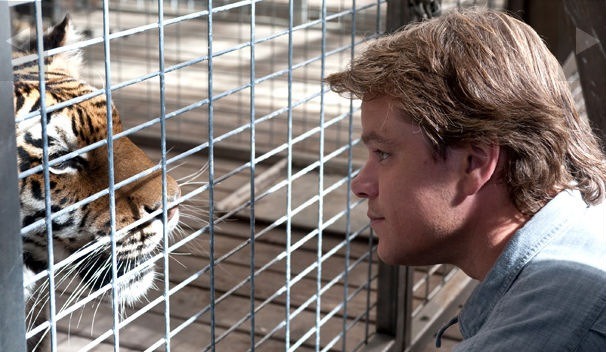 One of the things I (and I think many other people) love about Cameron Crowe's films is how warm and optimistic they tend to be. And his latest directorial effort, We Bought a Zoo, clearly won't be any different in that regard. Based on a memoir by Benjamin Mee, the drama stars Matt Damon as a single dad who moves his family to a run-down zoo. As they work to restore the park, they encounter all sorts of lovably offbeat characters and heartwarming life lessons along the way.
But when the first trailer hit earlier this fall, I worried that perhaps Crowe had gone too far into "sweet" this time, crossing right over into "saccharine." Happily, the new international trailer strikes a much better balance, managing to be uplifting without being groanworthy about it. Watch it after the jump.
[via Coming Soon]
The two trailers are essentially the same for the first minute and change, but the international version goes in a slightly different direction in the second half. The end result feels much less sappy, in my opinion, though I'm having trouble pinpointing the exact reason why. Maybe it's that we get a much better sense of the actual hardships that come with running a zoo, or the comic relief of John Michael Higgins' appearance. The omission of that eyeroll-worthy (not to mention factually inaccurate) line from the other trailer about "a lot of heart" being all anyone needs to run a zoo probably doesn't hurt, either.
At any rate, here's hoping We Bought a Zoo marks a return to form for Crowe after the disappointment of Elizabethtown. Adapted from Mee's memoir by Aline Brosh McKenna (The Devil Wears Prada), the film stars Scarlett Johansson, Thomas Haden Church, Elle Fanning, and Patrick Fugit in addition to Damon. We Bought a Zoo hits December 23, 2011.
Synopsis:
This holiday season, acclaimed filmmaker Cameron Crowe (Jerry Maguire, Almost Famous) directs an amazing and true story about a single dad who decides his family needs a fresh start, so he and his two children move to the most unlikely of places: a zoo. With the help of an eclectic staff, and with many misadventures along the way, the family works to return the dilapidated zoo to its former wonder and glory.