Ruairi Robinson Set To Direct 'The Last Days On Mars'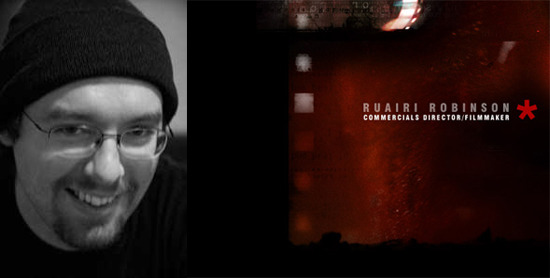 Short film and commercial director Ruairi Robinson has been attached to a few studio projects over the past year or two, notably one incarnation of Warner Bros. live-action Akira remake. His last big project was the 'killer robot' short Blinky, which you can see here.
Now he's got a new project brewing that will feature effects from WETA. If sales work out for The Last Days on Mars at the American Film Market, the film will shoot next year based on a script by Clive Dawson. The film follows the discovery of a predatory life form on Mars by a research team that is only hours away from leaving the planet to return to Earth.
A press release with a few more details is after the break.
LONDON (November 1, 2011) – Academy Award nominated Ruairi Robinson (Fifty Percent Grey, Blinky) is set to direct his first feature film, the highly anticipated thriller The Last Days On Mars based on a script by acclaimed screenwriter Clive Dawson, with design talents including the extraordinary team at WETA (District 9, X-Men First Class and Avatar) behind the special effects. Qwerty Films' Michael Kuhn (The Duchess, Being John Malkovich) and Andrea Cornwell (The Scouting Book for Boys) will produce the film, with Focus Features International handling international sales and distribution. FFI will commence sales at the American Film Market in November.The Last Days On Mars is currently in pre-production and is expected to start shooting early 2012 on location in Jordan and at Shepperton Studios in the UK.
As their last day on Mars draws to a close, the astronaut crew is on the verge of a major breakthrough – collected rock specimens reveal microscopic evidence of life. Meanwhile, communication is underway with AURORA, the approaching spacecraft that will relieve the crew of their operations. In their last hours on the planet, two astronauts go back to SITE 9, a cavernous valley on the surface of Mars, to collect further evidence of their discovery. But a routine excavation turns deadly when one of them falls to his death and his body taken host and re-animated by the very life form they sought to discover.
Michael Kuhn said, "I have loved making sci-fi films since I made Pitch Black and for The Last Days On Mars we have assembled a great team to do justice to a wonderful and commercial script".
Focus Features International Co-President Alison Thompson commented, "We are looking forward to working with exciting new filmmaker Ruairi Robinson who has already showcased his talent with a number of short films, and we are also thrilled to be involved in a project together with renowned producer Michael Kuhn who will help guide Ruairi's vision for the film."