Universal's New Werewolf Movie Now Shooting, Headed Straight To DVD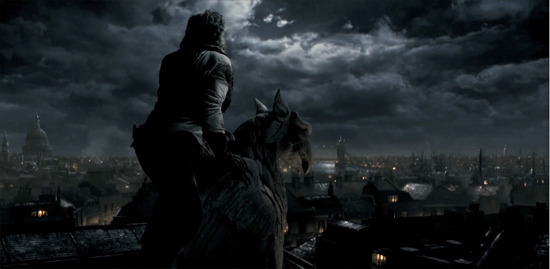 This summer we started to hear rumblings that Universal was prepping a new Wolfman movie, and that this might essentially be a reboot of the character, and one that acts like the recent The Wolfman, starring Benicio Del Toro, didn't happen.
Those reports were partially correct. Roger Corman veteran Louis Morneau (Joy Ride 2: Dead Ahead; The Hitcher II: I've Been Waiting; Bats), tipped as the director for this project a few months back, started production today on a film called, for now, Untitled Werewolf Thriller. Stephen Rea, Steven Bauer, Ed Quinn, Nia Peeples, Guy Wilson, Adam Croasdell and Rachel DiPillo are in the cast. But this won't be a theatrical release; this one is a Blu-ray and DVD-only affair that will arrive in time for Halloween 2012.
Here's a big chunk o' press release to give you many of the details:
There's no safe place to hide as the all-new supernatural Untitled Werewolf Thriller begins principal photography in and around Bucharest, Romania. Universal celebrates its storied history of creatures and horror with an exhilarating original adventure that embraces the popular cultural resurgence of the age-old werewolf myth. Breathtaking action and nail-biting suspense collide as an army of bounty hunters descend on a tiny hamlet in search of the most terrifying monster they have ever fought. The latest entry in the hugely successful DVD Originals™ line from Universal 1440 Entertainment, a production entity of Universal Studios Home Entertainment, Untitled Werewolf Thriller will be released on Blu-ray™, DVD, Digital Download and On Demand in time for Halloween 2012.
"Universal introduced the movie-going public to the 'creature feature' more than a half century ago," said Glenn Ross, General Manager and Executive Vice President, Universal 1440 Entertainment. "Today, audiences are once again enthralled by supernatural creatures in books, on television and in movies. Audiences young and old will enjoy this completely new take on a timeless story that is an essential part of Universal's legacy."
Here's the story synopsis:
A monstrous creature terrorizes a 19th Century European village by moonlight and a young man struggles to protect his loved ones from an unspeakable scourge in Untitled Werewolf Thriller, Universal Studios' all-new addition to its time-honored legacy of supernatural thrillers. During his studies with the local doctor (Stephen Rea), Daniel (Guy Wilson) witnesses the horrific consequences of werewolf attacks. Watching as the beast's fearsome reputation draws bounty hunters, thrill seekers and charlatans to the tiny town, Daniel dreams of destroying the ruthless predator. So when a mysterious stranger (Ed Quinn) and his team of skilled werewolf hunters (Stephen Bauer, Adam Croasdell) arrive to pursue the monster, he offers to join them, despite his mother's (Nia Peeples) protests. But it soon becomes clear that this creature is stronger, smarter and more dangerous than anything they have faced before. As casualties mount and villagers see their neighbors transformed into ravening monsters, the townsfolk take up arms against each other to find the true identity of the werewolf. Amid the hysteria, Daniel begins to suspect he's closer to his target than he ever dreamed.