Robert De Niro And John Travolta To Star In 'Killing Season'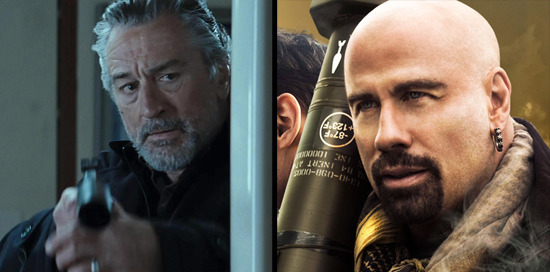 Mark Steven Johnson, the director of the first Ghost Rider film, as well as of Daredevil, Simon Birch and When in Rome, is now set to direct a movie called Killing Season. This will be the first film to team Robert De Niro and John Travolta, and the two actors will face off in a pretty classic adventure scenario.
A press release from Millennium Films says that the script is by Evan Daugherty (Snow White and the Huntsman) and that Killing Season will be,
an action movie set in the Appalachian Mountains about an American military veteran (De Niro) who has retreated to a remote cabin in the woods. When a rare visitor, a European tourist (Travolta), appears on the scene, the two men strike up an unlikely friendship. But in fact the visitor is a former Serbian soldier bent on revenge. What follows is a tense, action packed battle across some of America's most forbidding landscape that proves the old adage: the purest form of war is one-on-one.
I like the old one on one battle scenario, and given that Robert De Niro was one of the more entertaining aspects of the otherwise lackluster Killer Elite, I'm looking forward to seeing him in full-on action and survival mode. Maybe this script can capture a little bit of the great energy of the great 1939 Geoffrey Household novel Rogue Male, which was a big influence on David Morrell's novel First Blood and the movie it spawned.
Granted, it is Mark Steven Johnson directing, and there's nothing about that part of the deal that excites me. With anyone else I'd think Killing Season would sound really promising. But with this particular director at the helm, I'll wait to see a trailer before generating any real excitement.