George Romero And 200 Live Zombies Attend Mondo Mystery Screening Of 'Dawn Of The Dead;' Photos And Videos Here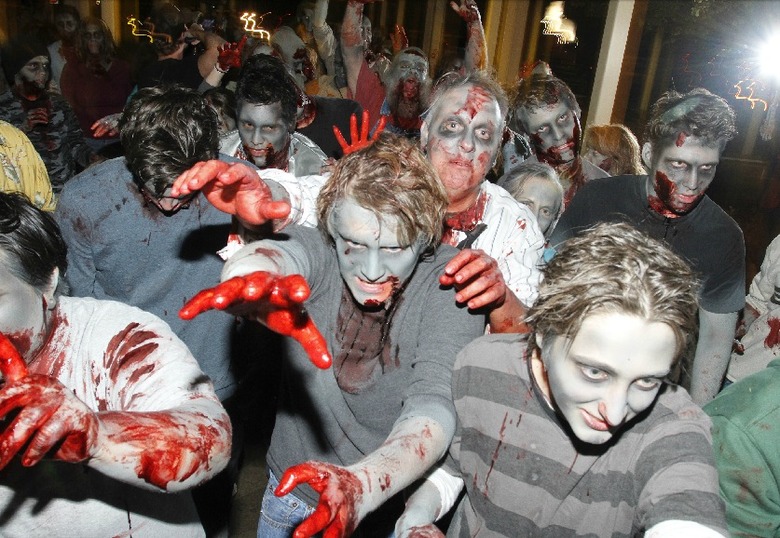 Mondo and the Alamo Drafthouse had their biggest event ever this weekend this weekend as 700 attendees piled onto buses and were escorted by police to the Highland Mall in Austin Texas for their ninth mystery screening: George Romero's Dawn of the Dead. When the buses pulled in, 200 zombies attacked them, forcing the film goers to race into the mall to watch the movie. There the director introduced his 1978 masterpiece which was accompanied by an awesome, limited edition poster by Jeff Proctor.
It was an event that won't soon be forgotten and, after the jump, you can see not only the poster, but photos and videos from the event that will help you relive the entire evening. What better way to start off you Halloween?
The first photo is Proctor's poster, followed by a selection of photos from the evening including the buses arriving at the mall, Harry Knowles as a zombie, Romero with Mondo Creative Director Justin Ishmael as well as Romero shooting a zombie and more. All of these photos were taken by Arnold Wells and Jack Plunkett.
And then there's video thanks to Arts & Labor. The first one is the edit of the entire evening.
Here's Romero's introduction
And finally the buses arriving at the mall.
The poster, which was also released in a variant with a blue sky, was a pretty big run so if you weren't lucky enough to be at this insane event, it should be readily available on the secondary market. But it won't be released online, it was strictly for Mondo Mystery Movie IX attendees.
Even though I wasn't there, I was following the progress of the event all evening on Facebook and Twitter. Despite a bit of a delay getting started, everyone who attended seemed genuinely blown away by the size of this event. We all know Mondo is getting big, but this night just seemed insane. They even told everyone the film was being held at a church to simultaneously threw everyone off the scent and leave the parking lot of the mall wide open for a zombie invasion.
If you're a fan of Dawn of the Dead, can you imagine a better night?