James Cameron Gives 'Fantastic Voyage' Update: Shawn Levy Still In, Script Development Two-Thirds Complete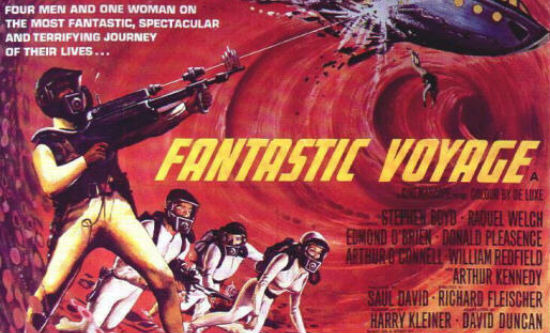 While James Cameron is hard at work perfecting Titanic 3D and writing Avatar 2 and 3, he's also producing a number of other projects including a 3D reboot of Fantastic Voyage. The film has been in development for some years with several A-List directors attached, the latest being Shawn Levy (Real Steel). However, Levy just added Frankenstein and Pinocchio to his dance card, which made it seem like Fantastic Voyage was dead once again. Not the case says the mega-producer.
After the jump, read Cameron's latest remarks on the remake of the 1966 film about a team of scientists shrunken down to explore the human body.
Deadline spoke to Cameron at the recent Titanic 3D event (read Peter's thoughts on that here) and he implied that not only is Levy still on board, he's actively working on the film:
I gave him my idea about how this should be turned into a love story and he's really run with it.
Here's how Deadline described the new direction for the story.
Much like Titanic the new Voyage has a real emotional core to it, basically dealing with a doctor going through troubled times in his marriage who finds himself injected into his gravely ill wife in order to save her life. Apparently, once he gets to the brain, things really heat up.
Cameron also said the script for a movie like this is very complex and is currently about two-thirds of the way to being where it needs to be. The director did a first take a long time ago, and Laeta Kalogridis (Shutter Island) was hired a year ago to rewrite Shane Salerno's original draft that got this current development moving.
Taking the concept for the original and morphing it into a love story certainly seems like a logical decision from an emotional and economic standpoint. It gives the scientists an even stronger reason to shrink themselves, makes the drama more relatable and blends sci-fi with romance, bringing in a bigger audience. However, if this script is only two-thirds of the way from being complete, odds are Levy will almost certainly do Frankenstein or Real Steel 2 first, making this a 2014 or 2015 release at the earliest.
Do you think this new direction is smart? Should Levy make this his next project or wait it out?