First Look: Ryan Gosling And Bradley Cooper In 'The Place Beyond The Pines'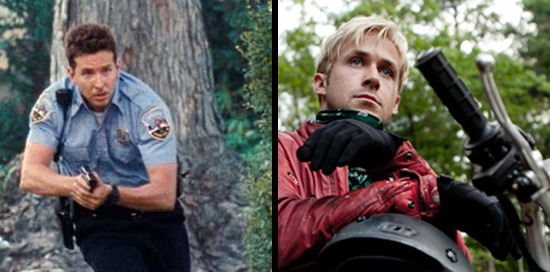 Soon after making his dark relationship indie Blue Valentine, Derek Cianfrance co-wrote a movie called The Place Beyond the Pines, which he says was inspired by Jack London and features two generations of conflicting fathers and sons, as well as motorcycles and guns.
His Blue Valentine star Ryan Gosling signed on to be a motorcycle rider who turns to crime — yeah, shades of Drive there — and is pursued by a rookie cop (Bradley Cooper). Eva Mendes, Rose Byrne, Ben Mendelsohn, Mahershalalhashbaz Ali, and Ray Liotta also joined the cast. After the break are the first full-size official stills of Gosling and Cooper as they appear in the movie.
When first talking about the movie, Cianfrance said,
I have a film called The Place Beyond the Pines, which is all about fathers and guns, and it has motorcycles and guns in it. One thing I wanted to do with Blue Valentine was to make a really violent film without guns in it. The next one will have guns, so it will be easier. No studio yet. We're in the middle of financing it right now.
Here's the plot:
Luke (Gosling) is a professional motorcycle rider who turns to bank robberies to support his newborn son, but when he crosses paths with a rookie police officer (Cooper) their violent confrontation spirals into a tense generational fued. THE PLACE BEYOND THE PINES is a rich dramatic thriller that traces the intersecting lives of fathers and sons, cops and robbers, heroes and villain.
[via BlackFilm]