Albert Finney Joins 'Bond 23'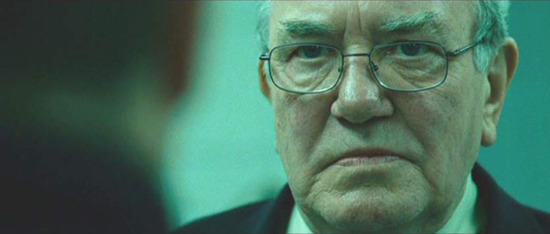 After the relatively disappointing Quantum of Solace, crippled by the writers' strike, there are a lot of big hopes for Bond 23, which will be directed by Sam Mendes and may be called Skyfall.
While we know very little reliable info about the story that will be featured in the film, the cast is shaping up to be capable of fulfilling those hopes. Daniel Craig returns as James Bond, and Judi Dench returns to play M. And in this installment we'll see one of M's powerful superior government officers, played by Albert Finney.
We haven't seen much of Finney in a few years, as he has been battling cancer. His last big films were Before the Devil Knows You're Dead (a great performance) and The Bourne Ultimatum. Finney will be returning to the Bourne franchise as well, as he is cast in Tony Gilroy's The Bourne Legacy.
The news about Finney and Bond comes from Baz Bamigboye, who has been on the forefront of Bond casting news. He says the casting was sprung on the cast as a surprise at a script reading, and that Finney will be "a Foreign Office mandarin with powers over the Secret Intelligence Service, described to me as a reasonably big role and full of class. The part probably makes him M's boss, though she — as played by Judi — might not see it that way."
Also in the film are Javier Bardem and Ralph Fiennes, along with Ben Whishaw, Naomie Harris as Moneypenny, Helen McCrory, Rory Kinnear and Berenice Marlohe. This report also says that John Logan, who has been finishing the Bond 23 script, has been enlisted by EON Productions to work on future Bond films. Shooting on Bond 23 starts next week, so we should have some real news about the story and title shortly. [via The Playlist]