Cool Stuff: "Please Post Bills", Gallery 1988's Bill Murray Tribute Art Show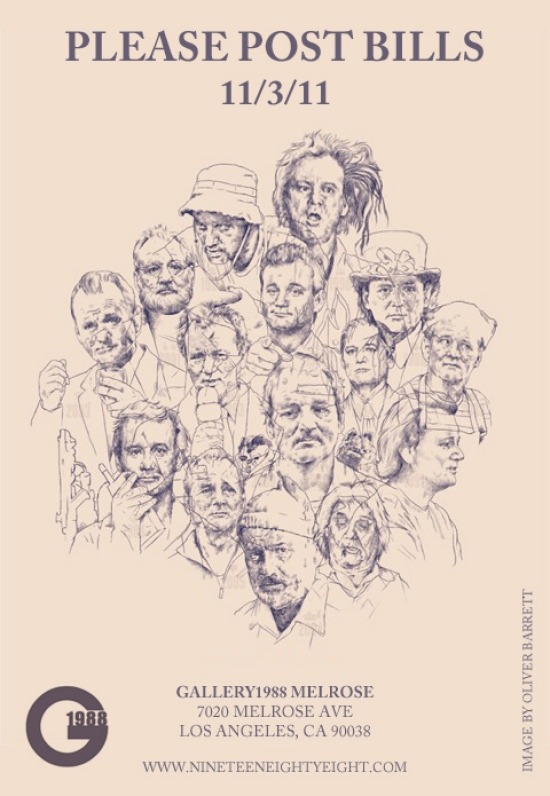 Los Angeles's famous pop culture art gallery Gallery1988 will be launching a new show next week at their Melrose location called "Please Post Bills", an art tribute to Bill Murray.  About 80 artists are involved in this group show that will be paying tribute to a comedic legend with prints, sculptures and original pieces.
The show will have its grand opening on Thursday November 3rd 2011, and will run through November 26th. But you won't have to wait until the third to see some of the artwork as Gallery1988 have given us a bunch of images to premiere. We've also compiled some pieces around the internet. Check them out now after the jump.
We should have more art from the show next week, so keep checking back! The show wil feature new art from the following artists:
Aaron Sechrist
Adam Hanson
Adam Limbert
Adam Limbert
Adam Setala
Aled Lewis
Andrew DeGraff
Andy Ristaino
Augie Pagan
Becky Dreisdadt
Becky Dreisdadt
Brigette Barranger
Casey Weldon
Chogrin
Christopher Lee
Clark Orr
Dan Bob Thompson
Dan Grzeca
Danielle Buerli
Danielle Rizzolo
Dave Perillo
Derek Eads
DKNG
Doug LaRocca
Doug LaRocca
DrilOne
Eric Braddock
Evan Lopez
Evanimal
Ewen Stenhouse
Fernando Reza
Gene Guynn
Glen Brogan
Graham Erwin
Helena Garcia
Hero Design
Ian Glaubinger
Ian Glaubinger
Irma Rivera
Isaac Bidwell
Isaac Bidwell
Israel Sanchez
James Flames
Jason Edmiston
Jason Hernandez
Jason Marz
Jayson Weidel
Jeff Boyes
Jesse Riggle
Jessica Deahl
Joe Wilson
John Rozum
Jon Burgerman
Jonathan Luna
Josh Siegel
Jude Buffum
Justin Parpan
Justin White
Kali Meadows
kaNO
Karla Jane (Hansen)
Ken Garduno
Kevin Ang
Kiersten Essenpreis
Kyle Norris
Laura Bifano
Little Friends of Printmaking
Matt Owen
Meghan Stratman
Methane Studios
Mike Mitchell
Miranda Dressler
Mr. Gauky
Nick Comparone
Nicole Gustafsson
Oliver Barrett
Pat Kinsella
Paul Palcko
Pedro Delgado
Rhys Cooper
Rhys Cooper
Rhys Cooper
Rhys Cooper
Rich Pellegrino
Rich Pellegrino
Ryan Brinkerhoff
Ryan Sanchez
Samuel Ho
Samuel Ho
Scott Derby
Sean Clarity
Sean Dove
Stephanie Buscema
Steve Dressler
Steven Thomas
Tim Maclean
Todd Slater
Tom Haubrick
Zac Gorman
Gallery 1988 Los Angeles is located at:
7020 Melrose Avenue
Los Angeles, CA 90038
Additional image credits: Jessica Deahl, ExpressoBeans. The Autumn Society