Casting Bits: Hailee Steinfeld, Dave Franco, And Deborah Ann Woll For 'Rosaline', Anne Hathaway In 'Puzzler', Josh Holloway And Chris Brown In 'Planet B-Boy'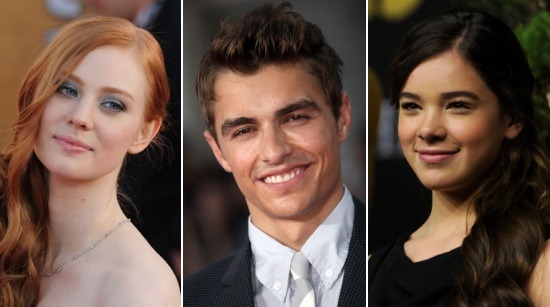 Hailee Steinfeld, Dave Franco, and Deborah Ann Woll have been offered the leads in Rosaline, a retelling of Shakespeare's Romeo & Juliet that's told from the perspective of the girl Romeo ditches to be with Juliet. Michael Sucsy is directing from a script by by (500) Days of Summer writers Scott Neustader and Michael H. Weber, which in turn is an adaptation of Rebecca Serle's forthcoming debut novel When You Were Mine. The comedy will use modern-day dialogue in a 16th-century Verona setting.
Woll would play the title character, while Franco and Steinfeld could play Romeo and Juliet, respectively. If Steinfeld signs on it'll be her second time playing the iconic character, as she's also lined up to play Juliet for Carlo Carlei's more straightforward adaptation. Much as I like Steinfeld, her casting here strikes me as a bit off since she's eleven years younger than Woll and Franco — but maybe that's part of the story? [Showblitz]
After the jump, Anne Hathaway becomes a producer, and Sawyer from Lost explores the world of competitive international breakdancing. Really.
In some rather unexpected casting, Josh Holloway, Laz Alonso, Josh Peck, Caity Lotz and Chris Brown are lined up to star in Planet B-Boy, Benson Lee's breakdancing drama based on his award-winning documentary of the same name. Brin Hill and Chris Parker's script is set in the international world of "B-boying" (or as we call it, breakdancing), and will follow "an all-star American b-boy crew training to compete in France at the Battle of the Year (BOTY) International Championships. After a decade of defeat, the crew and their coach must go up against the best and greatest b-boys in the world: the Koreans, the Russians and the French who have dominated the original American dance form for the last 10 years."
It's unclear at this point which role each actor will play, though given Brown's dancing skills it seems likely he'll be part of the dance team. But what I'd really like to see is Sawyer busting a move — think he's got it in him?
Planet B-Boy entered production this week and will shoot in Los Angeles before heading to Montpellier, France. [The Hollywood Reporter]