Video Blog: 'Mission: Impossible – Ghost Protocol' IMAX Footage Reaction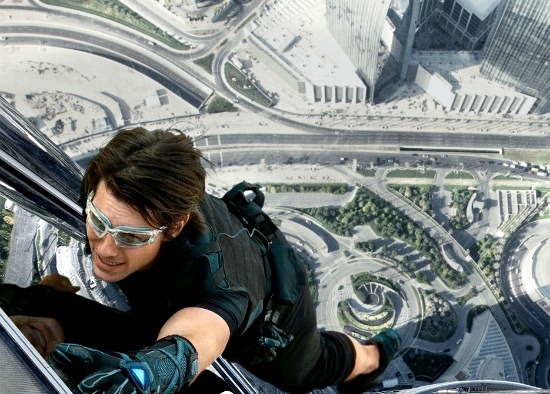 Thursday not only brings a brand new trailer for Brad Bird's Mission: Impossible – Ghost Protocol, it brings the permission for me to let you know what I thought of the two full, IMAX action scenes I saw from the film earlier this month. Paramount invited members of the press to the Rave Motion Pictures 18 in Los Angeles to see some of the footage Bird shot in full IMAX and it did not disappoint. It's massive, it's epic and it'll make you hold on for dear life. After the jump, I'll briefly describe the two scenes before jumping into a video blog reaction to the footage with Alex Billington from FirstShowing.net.
Before the blog, here's the set up. We were shown two scenes. The first is the one we've all been waiting for, the Burj Khalifa in Dubai. Minor spoilers from here on out.
Basically, this scene takes place in the middle of the film and features Ethan Hunt (Tom Cruise) and his team, played Jeremy Renner, Paula Patton and Simon Pegg, attempting to stop a meeting from happening. Their plan is to have two people think they met each other, but actually not, through the use of the patented Mission: Impossible masks and some clever elevator manipulation. Unfortunately, the only way to control the elevators is in a secure server room and the fastest way into the server room is, you guessed it, from the outside.
The second scene is from a little later in the film and it shows Ethan in a foot chase with a bad guy that, because the scene was shown out of context, shall remain anonymous. The reason this seemingly normal running scene was in IMAX is that it takes place during a totally blinding sandstorm which, eventually, turns into a blind car chase. In the first trailer, if you remember the shot where Ethan narrowly avoids a flying car, that's this scene.
Enough set up, time for the video blog! Thanks to FirstShowing.net.
Me again. We shoot those things so fast and off the seat of our pants sometimes I'm not sure if want I want to say comes across. To hopefully reiterate, the IMAX scenes in Mission: Impossible – Ghost Protocol look phenomenal. Of course they do. They were shot on location by Brad Bird with huge IMAX cameras. The real test, however, will be if – once we see these scenes in context – they hold up within a character driven story or just feel like how I saw them two months early, as gorgeous, disjointed, out of context, action. Time will tell.
Mission: Impossible – Ghost Protocol opens in IMAX on December 16. It's the only way to see it.