Animated Characters Will Appear In Johnny Depp's Doctor Seuss Biopic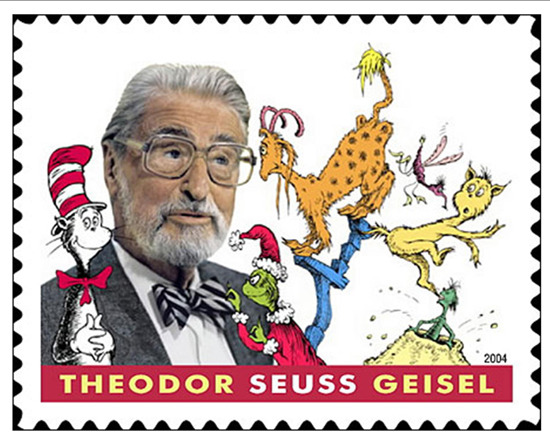 Johnny Depp has, improbably, become one of the world's biggest movie stars. He has a great number of projects in the works, from Dark Shadows and a fifth Pirates of the Caribbean movie to Lone Ranger, The Thin Man and, a bit further on the horizon, a possible biopic of Theodor Geisel, aka Dr. Seuss.
Depp doesn't give a great many long interviews, but he did recently appear on Larry King's show as part of the promotion for The Rum Diary, which is the second film in which he plays a version of the late author Hunter S. Thompson. During that interview Depp touched on a number of upcoming projects. Among them was the Dr. Seuss biopic, which he says will incorporate animation and live action, with Seuss' classic characters appearing alongside human actors.
To Larry King, Depp said,
It's something we're developing with Seuss' widow, Geisel's widow. It's a very exciting possibility, because it's a combination of live-action and...the characters will certainly have a role.
Depp is producing and possibly starring in the film. His company, Infinitum Nihil, is developing the picture, which Universal will distribute if it actually becomes a film. Keith Bunin is set to script. Last we heard, the producers were "not ruling out animated bells and whistles," but Depp's comment makes those bells and whistles seem quite assured to be present.
Because we know little else about the Dr. Seuss film at this point I'll leave you with a solid quote about Lone Ranger, in which Depp explains his own attraction to the project. We knew that he wanted to play Tonto, and play him in a manner that was very different from what the character has traditionally been. This is his approach:
What I like about Tonto is the idea that this character who is thought of as 'the sidekick'—that's the thing that always bugged me about The Lone Ranger is 'Well why is the Indian the sidekick? Why does he have to go get you that thing?' And I couldn't stand that always. My approach to Tonto is that there's this crazy like a fox stoicism to Tonto that Tonto probably believes that The Lone Ranger is his slave, his sidekick. So it's like 'Go get me the thing,' 'No, no, no you go get it. You're the one dressed in the funny outfit, you go do it.'
[via Collider]