Takeshi Kitano's 'Outrage' Red Band Trailer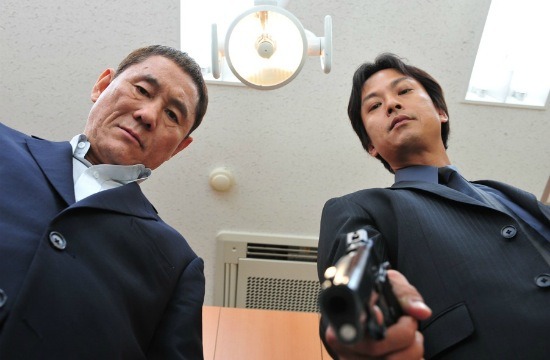 Lovers of film are likely lovers of Takeshi Kitano. Sometimes billed as Beat Takeshi, he's not only the evil star of Battle Royale, he's the talented director of films like The Blind Swordsman: Zatoichi and Fireworks. In 2010, he directed and starred in Outrage, a twisting, turning crime drama in the vein of Martin Scorsese. It played several festivals, spawned a few trailers and was successful enough that a sequel, Outrage 2, is on the way. However, most fans haven't had a chance to see the original because its U.S. release date was way off. Finally, Outrage is schedule to hit U.S. screens on December 2 and on-demand next week, October 28. There's a brand new red band trailer for the film after the jump.
Thanks to Hulu for this trailer. (That means people outside the US probably can't see this embed.)
Here's the official plot description.
In a ruthless battle for power, several yakuza clans vie for the favor of their head family in the Japanese underworld. The rival bosses seek to rise through the ranks by scheming and making allegiances sworn over saké. Long-time yakuza Otomo has seen his kind go from elaborate body tattoos and severed fingertips to becoming important players on the stock market. Theirs is a never-ending struggle to end up on top, or at least survive, in a corrupt world where there are no heroes but constant betrayal and vengeance.
I saw Outrage at AFI Fest 2010 and enjoyed it immensely. It's filled with the kind of kinetic energy that fuels the first 90 minutes of Casino or the last 30 minutes of Goodfellas with enough double crosses, great kills and evil characters to delight all lovers of crime and violence. Check it out when it's available.