Joseph Gordon-Levitt May Join Quentin Tarantino's 'Django Unchained'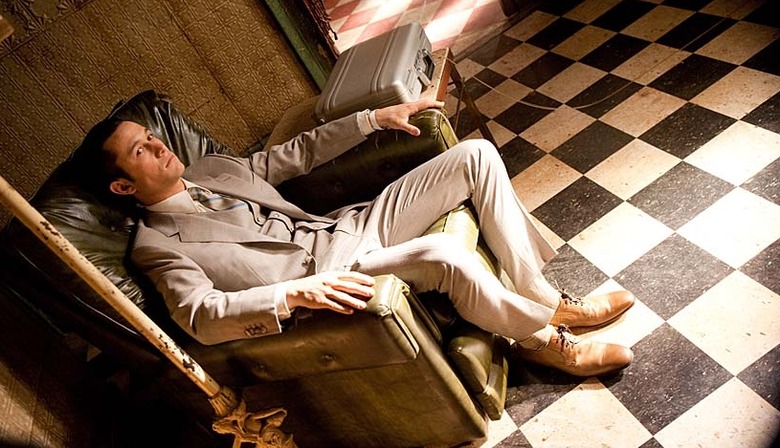 The latest actor to flirt with Quentin Tarantino and his new anti-slavery 'Southern,' Django Unchained, is Joseph Gordon-Levitt. The actor reportedly wants to do the film, and is ready to take a role pending the resolution of some scheduling issues. One of those scheduling issues would have been press commitments for Premium Rush, but that movie was just pushed back to August, so that's one hurdle gone. Hit the break for some speculation on his role.
Variety gives up that info but doesn't have any details on what role he might play. There are a couple open roles at this point, but I hope JGL ends up playing a young man named Scotty Harmony. The character is described as a meek little 'fatboy' in the script, but I think Levitt could do well by the character, even taking his physical difference into account. Scotty is the character to whom Django's wife Broomhilda ends up sold, and the pair of them are part of a long interlude in the story that is one of the script's strongest and weirdest parts.
Django Unchained features Jamie Foxx as the title character, a slave who is freed by German dentist turned bounty hunter Dr. King Schultz (Christoph Waltz). The two end up joining forces, first to search out an easy bounty, and eventually to find Broomhilda. (That casting is still to be announced though Kerry Washington has been persistently rumored). They're opposed by a slaver named Calvin Candie (Leonardo Di Caprio).
Kurt Russell is rumored for Ace Woody, right-hand man to Candie and a "vile and sadistic trainer of slaves who are forced to fight in death matches." Samuel L. Jackson is Candie's main house slave Stephen, and Don Johnson is Spencer Bennett, a plantation owner who runs a string of pretty, young female slaves he calls 'ponies.' Dennis Christopher is Candie's lawyer Leonide 'Leo' Moguy; Laura Cayouette is Candie's sister; and M.C. Gainey and Gerald McRaney are in the film. Michael K. Williams has said he might have a part, too.