TV Bits: TBS Buys Conan O'Brien's 'Fat Chance', Plus: Judy Greer, Mandy Moore, 'How To Be A Gentleman', 'Once Upon A Time', And More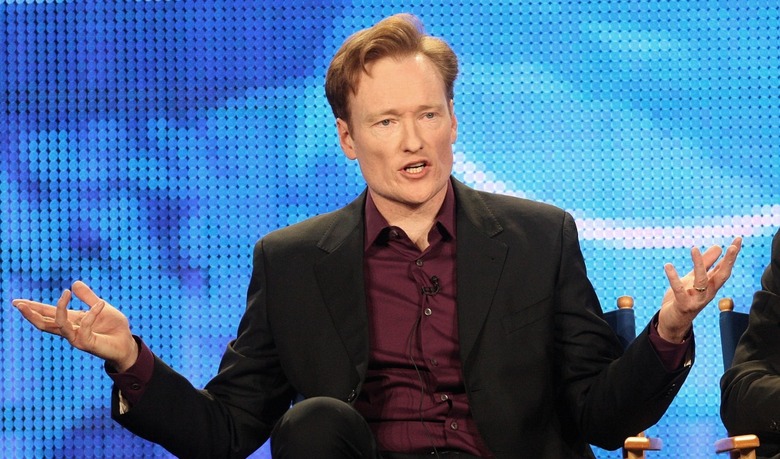 Good things are happening to good people in today's TV Bits, which sees new sitcoms in the works for Conan O'Brien, Judy Greer, and Mandy Moore, among others. After the jump:
TBS orders a sitcom from Conan O'Brien
ABC develops new projects with Judy Greer, Mandy Moore, and Desperate Housewives creator Marc Cherry
The CW buys a thriller from Easy A scribe Bert V Royal
CBS yanks the already-cancelled How to Be a Gentleman from its Saturday lineup
Watch the first 9 minutes of ABC's Once Upon a Time
The multi-camera project will be about two best friends — fat Chance and handsome Rollie — and a beautiful woman named Alex who enters their lives. It's not an inherently interesting premise, but I like O'Brien's sense of humor so I look forward to seeing where this is going. [The Hollywood Reporter]
The lovely and talented Judy Greer has had far more luck with supporting roles than starring ones, but that may be changing. The actress is currently developing an untitled show for ABC based on her own real-life experience moving from LA to the suburbs in order to be with the man she loves and help raise his children. The half-hour, single-camera comedy will be written by Harry Elfont and Deborah Kaplan (Made of Honor) — which isn't terribly promising, but let's hold out hope.
Greer's got a couple of failed TV starring roles in her past, including 2008's Miss Guided and this year's Mad Love. Here's hoping third time's the charm. [Deadline]
Also in the works at ABC is another untitled half-hour, single-camera comedy featuring a familiar actress — Mandy Moore. The network has just outbid two other networks to give her project a put pilot commitment, which will be penned by Wedding Crashers co-writer Bob Fisher and directed by Real Steel helmer Shawn Levy. The show will center around two young newlyweds (one of whom will be played by Moore) caught between the families they grew up in and their new life together. The project will mark Moore's first time leading a TV series, though she's guest-starred on shows like Grey's Anatomy and How I Met Your Mother. [Deadline]
And if that's not enough female-centric shenanigans for you, ABC's also working with Desperate Housewives creator Marc Cherry on an hourlong soap titled Devious Maids. Adapted from the Mexican telenovela The Disorderly Maids of the Neighborhood, the story will follow four Latina maids who work in Beverly Hills.
Plot specifics of the new series haven't been revealed, but the original telenovela revolves around five housekeepers who work in a residential condominium complex. When a heated controversy breaks out over a decision to install a new swimming pool, one tenant mysteriously vanishes, a suitcase full of money appears, and a dead body is discovered. Can you think of anyone more perfect for adapting that kind of material than the man who gave us Desperate Housewives? [Deadline]
Moving on to a different network and a completely different type of show: The CW has picked up an action thriller titled Dare, from Easy A scribe Bert V Royal. The hourlong follows a group of young adults who are forced to play a deadly game of Truth or Dare and must discover who's pulling the strings and how to stop them. Sounds more like a feature or miniseries than an ongoing television show, but maybe there's more to it than that. Royal will executive produce the series with Dan Lin (Sherlock Holmes) and Jennifer Gwartz (Veronica Mars, Party Down). [The Hollywood Reporter]
This fall season saw a trio of new series about men trying to be men — Last Man Standing, Man Up, and How to Be a Gentleman — but it appears viewers aren't as enamored of the trend as network execs were. Although Last Man Standing has pulled solid numbers, Man Up was only so-so in its premiere, and now How to Be a Gentleman has bitten the dust. Again. CBS shut down production on the sitcom, which stars Kevin Dillon and David Hornsby, after just two weeks, but said at the time that it planned to burn off the remaining episodes in a Saturday 8:30 PM timeslot. After just one week, the network has decided that that isn't working out either, and has pulled Gentleman from its lineup altogether.
Gentleman started the season with a very desirable Thursday night slot right behind The Big Bang Theory, but performed even worse than the now-cancelled $#*! My Dad Says did in that same position last year. Gentleman's time slot has since gone to Rules of Engagement. [The Hollywood Reporter]
And finally, we've got a look at the first nine minutes of Once Upon a Time, ABC's drama about fairy tale characters who've been banished to modern-day Connecticut. The dramatic fantasy, by Lost writers Adam Horowitz and Edward Kitsis and producer Damon Lindelof, is set to premiere Sunday, October 23 at 8:00 PM — days head of that other fairy tale-inspired series, NBC's Grimm. Watch the Once Upon a Time clip below:
[via Cinema Blend]