Villanous Once-Ler From 'The Lorax' Revealed [Gallery]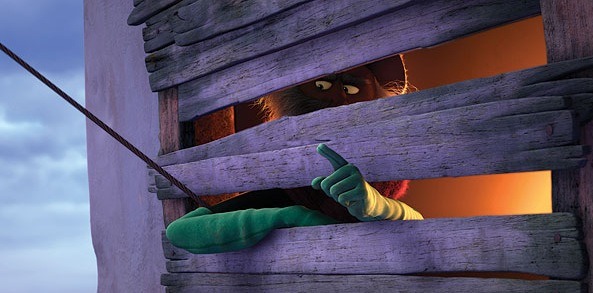 Anyone who read Dr. Seuss' The Lorax as a kid is undoubtedly familiar with the title character, the mustachioed orange grump who speaks for the trees. The villainous Once-ler, on the other hand, has always remained more of a mystery. Seuss' books showed only a pair of long, spindly arms, leaving readers to guess at the rest of his appearance.
We'll never know exactly how Seuss pictured him, as the writer and illustrator passed away in 1991. But Universal has unveiled its take on the character in a new image from the upcoming animated adaptation of Seuss' tale. Directed by Chris Renaud and Kyle Balda and produced by Christopher Meledandri (Horton Hears a Who), The Lorax features the voices of Danny DeVito as the eponymous creature and Ed Helms as the Once-ler. Take a look at the Once-ler, and a couple of other images, after the jump.
[via Entertainment Weekly]
Is it a tad disappointing that the notoriously destructive Once-ler looks so... ordinary? Perhaps. But, Meledandri told Entertainment Weekly, that's part of the point. After lots of consideration, the filmmakers determined that there was no reason for the Once-ler to be anything but human — and that in fact, making him a regular (albeit misguided) person could help get the story's message across.
"The minute you make the Once-ler a monster, you allow the audience to interpret that the problem is caused by somebody who is different from me, and it ceases to be a story that is about all of us," he said. "Then it's a story about, 'Oh I see, the person who led us into the predicament is not a person. It's somebody very, very different.' And so it takes you off the hook."
First published in 1971, Seuss' classic book tells the story of a man called the Once-ler who destroys a forest of beautiful Triffula trees, over the objections of the Lorax, in order to produce Thneeds (a type of garment described as "a Fine-Something-That-All-People-Need"). The family film will also feature the voices of Zac Efron as the boy who hears the Once-ler's sad tale, Taylor Swift as his friend, and Betty White as his wise grandmother. The Lorax opens March 2, 2012.