'A Very Harold & Kumar 3D Christmas' Red-Band Trailer: Stoned Toddlers And Claymation Genitals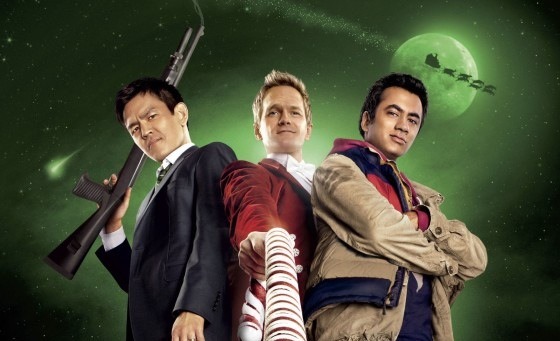 The two existing Harold & Kumar movies have gone a long way towards keeping raunchy, healthy R-rated humor alive over the past few years. The third one, A Very Harold & Kumar 3D Christmas, seems to be operating on the principle that you can get away with just about anything, so long as it is all wrapped up in a big holiday bow.
The first trailer made the third film look mildly manic and possibly funny. This new red-band trailer (which is very NSFW) makes it look straight-up wrong. Which is as it should be.
Thank IGN for the trailer.
Kal Penn and John Cho return as the title characters (heroes?); Neil Patrick Harris is back as someone's fantasy version of Neil Patrick Harris, and Patton Oswalt, Thomas Lennon, Danny Trejo, Eddie Kaye Thomas, David Krumholtz, and Elias Koteas all have roles.H&K creators Jon Hurwitz & Hayden Schlossberg wrote, and Todd Strauss-Schulson directed. Let's hope this red-band trailer doesn't have all the crazy stuff.
Here's the official plot description for A Very Harold & Kumar 3D Christmas, which will be released on November 4, just in case all the dirty stuff in the trailer above left you wanting to know about pointless aspects like story :
After years of growing apart, Harold Lee and Kumar Patel have replaced each other with new friends and are preparing for their respective Yuletide celebrations. But when a mysterious package mistakenly arrives at Kumar's door on Christmas Eve, his attempt to redirect it to Harold's house ends with the "high grade" contents — and Harold's father-in-law's prize Christmas tree — going up in smoke. With his in-laws out of the house for the day, Harold decides to cover his tracks, rather than come clean. Reluctantly embarking on another ill-advised journey with Kumar through New York City, their search for the perfect replacement tree takes them through party heaven — and almost blows Christmas Eve sky high.