Casting Bits: John Cusack And Johnny Knoxville In 'Carnaval', Katherine LaNasa In 'Dog Fight' And 'The Frozen Ground', Vanessa Redgrave, Melanie Laurent In 'Night Train To Lisbon'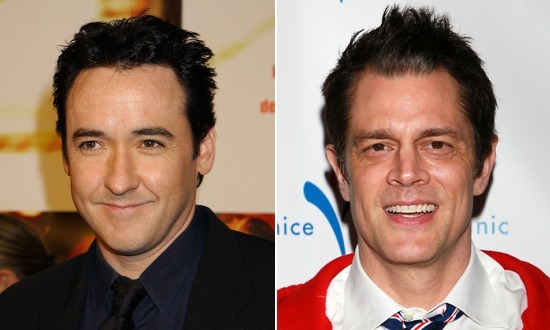 John Cusack and Johnny Knoxville are set to star in Carnaval, a comedy directed by Josh Stern. Cusack will play a sports scout who tavels to Rio de Janeiro during Carnaval in order to sign a soccer star, while Knoxville has been cast as Cusack's musician best friend who tags along. Cusack's character needs to bring the player on board so that he can take over his agency, but his plans go awry when Knoxville's character sleeps with the player's girlfriend. Carnaval will begin shooting in Rio this January.
Knoxville's been on a roll lately in terms of landing roles. Over the past few months, he's signed on for the teen comedy Fun Size, an untitled camping comedy with Patton Oswalt, and the Arnold Schwarzenegger action flick The Last Stand. Cusack also has a handful of movies lined up for next year, including Lee Daniels' The Paperboy, the Edgar Allan Poe thriller The Raven, and the serial killer drama The Frozen Ground. [The Hollywood Reporter]
After the jump, TV actress Katherine LaNasa gains two movie husbands, and a whole bunch of people board Night Train to Lisbon.
The Frozen Ground is one of two gigs that LaNasa has recently picked up. The other, Jay Roach's Dog Fight (formerly titled Southern Rivals, and then just Rivals) should be much lighter. The comedy follows two politicians (Will Ferrell and Zack Galifianakis) running against each other in a congressional district race in South Carolina. LaNasa will play Ferrell's wife, while Sarah Baker will co-star as Galifianakis'.
LaNasa's extensive small-screen work includes parts in Two and a Half Men and Big Love, but she's been gravitating toward film roles as of late. Her most notable upcoming gig is Jayne Mansfield's Car, directed by Billy Bob Thornton and co-starring Kevin Bacon, Ray Stevenson, and John Hurt. [The Hollywood Reporter]
We haven't heard much about Bille August's Night Train to Lisbon since Jeremy Irons joined back in June, but a slew of intriguing names have just become attached to the project. Vanessa Redgrave, Melanie Laurent, Bruno Ganz, Christopher Lee, Lena Olin, Martina Gedeck, and Jack Huston will also star in the thriller, an adaptation of Pascal Mercier's bestselling novel. They'll be joined by August Diehl, Nicolau Breyner, Adriano Luz, Jose Wallenstein, and Beatriz Batarda, all of whom were also recently announced for the picture.
The plot centers around a Swiss classics professor who saves a mysterious Portuguese woman from jumping to her death. Soon afterward, he falls in love with a Portuguese novel that inspires him to quit his job and travel to Lisbon in order to learn more about its writer. It is not clear at this point which actors will be playing which characters. The existential thriller is scheduled to begin shooting in March. [Variety]