James Cameron Says 'Avatar 2' Will Focus On Ocean Issues, Tours Future Site Of Disney's Avatar Land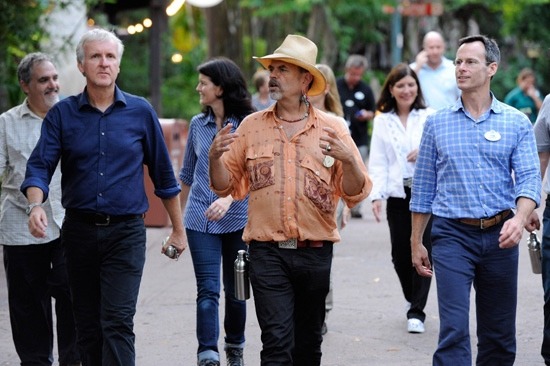 Apparently, one of the most essential qualities of an Avatar fan is patience – Avatar 2 isn't hitting theaters until 2014, and Disney World's Avatar-land won't open until years after that. But in the meantime, we have a couple of tidbits on what to expect from the future of the franchise. Director James Cameron recently offered some hints as to what Avatar 2 might look like, and went for a walk around Disney's Animal Kingdom to explore the future site of the Avatar attraction. More details after the jump.
"We will see the oceans of Pandora, which we haven't seen at all and that's an ecosystem that I'm dying to start designing because it's going to look spectacular," he said. "And there will be other planets as well, besides Pandora. It will be a cornucopia, a treat for the eyes."
Like the first Avatar, the sequels will deal with an environmental message.
"[The next film] narrows the spotlight instead of just nature in general or the rainforest. It focuses it a little more on ocean issues, because we have a planet that's a blue planet," he explained. "From a distance, you look at it, the Earth is a lot more blue than it is, you know brown, the land mass. We're making the oceans unsurvivable for a lot of the species right now. For a lot or reasons. It's just a way to focus a little energy in that direction."
But as he did with the original movie, Cameron will attempt to strike a balance between environmental issues and entertainment.
"I'm not going to become more strident. I'm not going to say, 'well, we got away with this much environmental content in the first movie, now there's double.' Because I think that would be a mistake. It has to be entertainment first and foremost."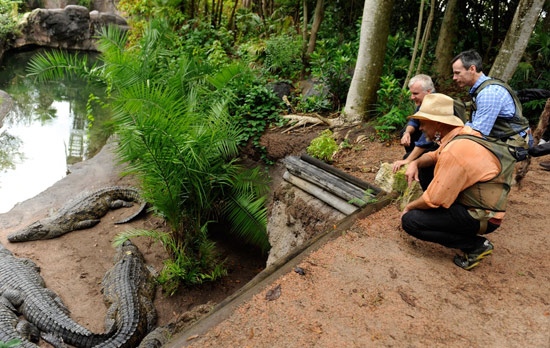 The busy Cameron also recently took a trip to Walt Disney World, where he expored the Animal Kingdom site of the Avatar-themed attraction that was announced last month. Though we still don't have many specifics, for what it's worth, Cameron seems very excited indeed about the new project.
"As I walked through the park, I kept imagining Pandora coming to life all around me and found my mind racing with all the possibilities of what we will be able to create in the years ahead. Disney's Animal Kingdom is truly a remarkable place and I can't think of a better home for our first Avatar experience," he said. Cameron and his Lightstorm Entertainment partner Jon Landau are serving as creative consultants for the attraction, and will work closely with Disney's Imagineers.
As previously reported, construction is expected to begin sometime in 2013. An opening date has not yet been announced, but 2016 or 2017 seem like reasonable guesses.