Mickey Rourke Not Doing 'Expendables 2,' Set Photos Revealed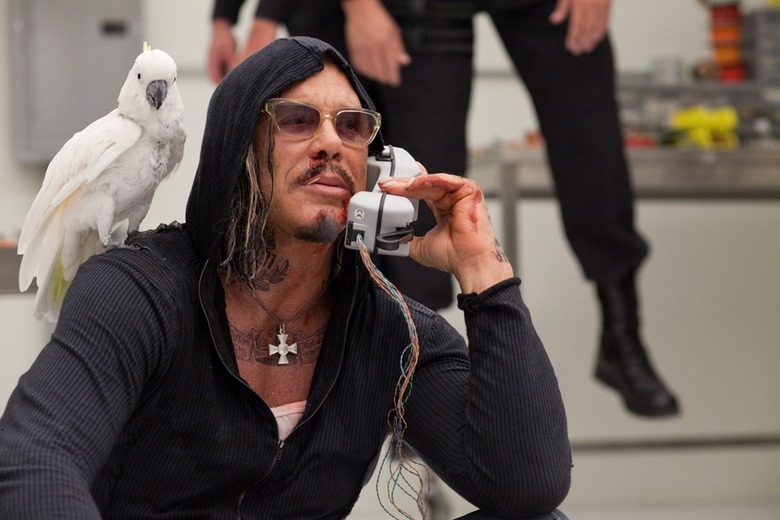 While Simon West's The Expendables 2 has been adding big names left and right, one that won't be returning is Mickey Rourke. The Oscar-nominee had a small part in the first film but won't reprise it, instead choosing a film with a little more cache: Martin McDonagh's Seven Psychopaths with Colin Farrel, Christopher Walken and Sam Rockwell.
His departure is the latest in a series of small Expendables 2 updates, which is currently filming in Bulgaria. After the jump, check out a few set images including one with Arnold Schwarzenegger, Sylvester Stallone and Bruce Willis and another revealing a new cast member.
The news of Rourke not doing Expendables 2, first reported at Deadline, is interesting because he was only supposed to have a very small part in the movie according to this previously released synopsis. Possible spoilers below.
The Expendables are back and this time it's personal! After Tool (Mickey Rourke), the heart and soul of the Expendables, is brutally murdered on a mission, his comrades swear to avenge him. They're not the only ones who want blood. Tool's beautiful young and wild daughter Fiona embarks on her own revenge mission, complicating matters when she is captured and ransomed by a ruthless dictator plotting to destroy a resistance movement. Now Barney and the Expendables must risk everything to save her and humanity.
Though Stallone later denied this synopsis, it seems to be in line with a lot of what we've read in subsequent reports. So the truth is probably somewhere in there. However, if it is to be believed, how do you think they'll deal with Rourke's non-compliance? We'll have to wait and see. Perhaps he's killed off-screen and we're just told about his death, while Stallone and Statham shed a tear over his photo.
Beyond that, things on the shoot to be moving along smoothly. Last week Arnold Schwarzenegger tweeted the first look from the set and it included co-stars Stallone and Willis. (We know, this is old, but we hadn't posted it before). Newly announced co-star Scott Adkins, he of several B-movie action films, and Chuck Norris, he of innumerable bad jokes, also posted shots from the set on their respective Facebooks. Adkins shows a little costume (via Crave) and Norris shows a little weather in Bulgaria. Here are the photos:
[No photo]
With the participation of those guys along with Liam Hemsworth, Jason Statham, Jet Li, Dolph Lundgren, Terry Crews, Randy Couture and Jean-Claude Van Damme, Expendables 2 is shaping up pretty nicely even without Rourke. Do you agree?
It'll be out August 17, 2012.