Anne Hathaway Joins Hugh Jackman And Russell Crowe In 'Les Misérables'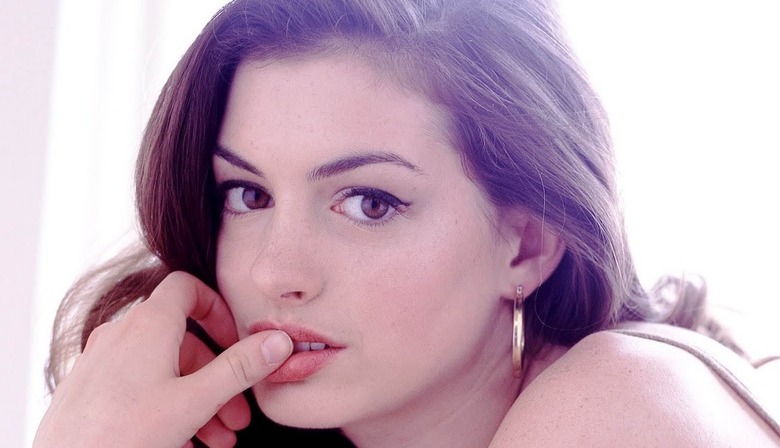 We've been hearing rumors for a while, but now it's official: Anne Hathaway has closed a deal to star opposite Hugh Jackman and Russell Crowe in Les Misérables, King's Speech director Tom Hooper's adaptation of the hit Broadway show and Victor Hugo novel. Read more after the jump.
As has long been suspected, Hathaway has landed the part of Fantine, the unwed mother of Valjean's eventual charge Cosette. The character sacrifices everything to provide for her daughter, eventually turning to prostitution. Her signature number is "I Dreamed a Dream," which has been covered in recent years by Susan Boyle and Glee's Lea Michele and Idina Menzel — which sets a pretty high bar for Hathaway's singing.
Hathaway reportedly beat out several other notable actresses for the part, including Amy Adams and Rebecca Hall. Hathaway is only the third confirmed star for Les Misérables, although many others have been attached or rumored. Last month, Helena Bonham Carter entered talks to play greedy Madame Thénardier — who abuses Cosette while the girl is in her care — but has not yet concluded her negotiations; other names that have cropped up for various characters include Geoffrey Rush and Emma Watson.
Universal recently announced a release date of December 7, 2012 for Les Misérables, which is shaping up to be a very likely Oscar contender given its very good pedigree. Hooper's The King's Speech picked up several awards at the 2011 ceremony, including Best Picture, Best Director, and Best Actor for star Colin Firth; Crowe has been nominated three times and won once (for Gladiator); and Hathaway has been nominated once. Jackman has yet to receive any Academy nods, but has picked up a Tony Award for the musical The Boy From Oz.
Here's Hathway singing a parody of Éponine's big solo, "On My Own":