Superhero Bits: Smallville, Thor 2, Iron Man 3, The Avengers, The Dark Knight Rises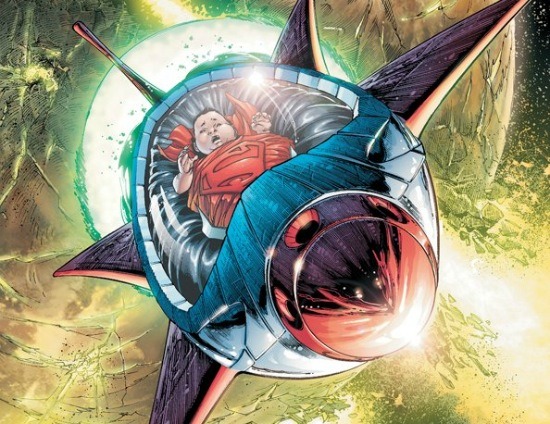 Who could be scoring The Avengers? How can you play as Batman Beyond in Batman: Arkham City? Where does Robert Downey Jr. rank Iron Man 3 with the other films in the franchise? Will Thor 2 change Hollywood's perception of blockbuster female directors? What news came out of the Smallville retrospective that screened at New York Comic Con? When will we learn the DC 52 origin story of Superman? Read about all of this and more in today's Superhero Bits.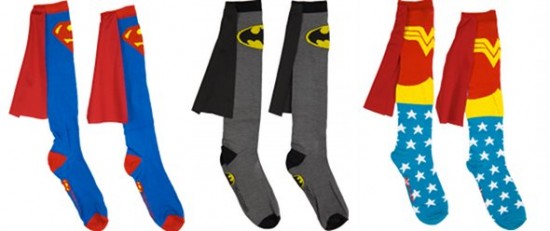 What's better than comic themed knee socks? Comic themed knee socks with capes on them. Thanks to Fashionably Geek.
Screened has an interesting editorial asking if Thor 2, now being directed by Patty Jenkins, could make Hollywood less afraid of females helming major motion pictures.
Avengers Trailer Recut from Patrick Collins on Vimeo.
Patrick Collins recut The Avengers trailer with some Hans Zimmer score and more.
A rumor began on the Superhero Hype boards, as reported by CBM, that Alan Silvestri will be scoring The Avengers.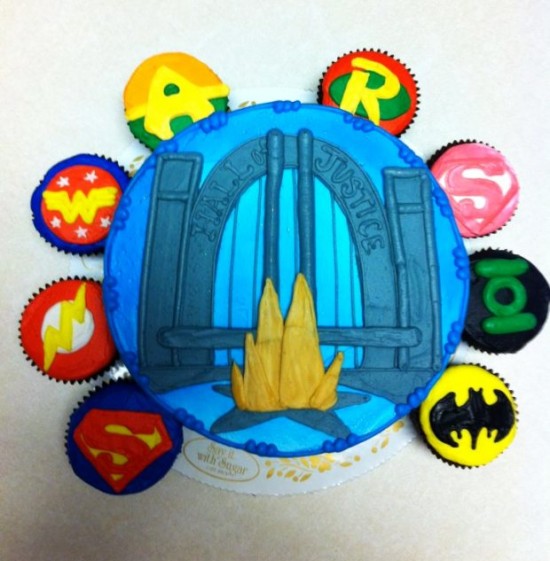 A Geeks Are Sexy reader sent in a photo of his Justice League themed birthday cake featuring character themed cupcakes.
Neveldine and Taylor spoke to io9 about Ghost Rider: Spirit of Vengeance and gave some hints about the film's villain, Blackout:
He's loosely based on Blackout from the comics, but we've expanded on him a little bit. We gave him some new powers and abilities he didn't have in the comic, but really at the heart of it is a really weird, fucked-up performance by Johnny Whitworth.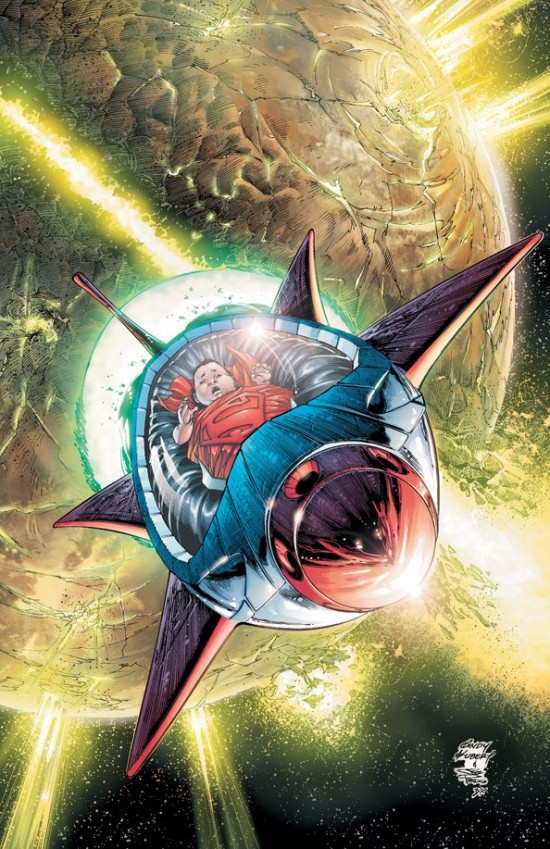 Superman will be given a new origin in Action Comics #5, out in January, according to Comic Book Movie. That's the cover above.
Newsarama spoke to producer Bruce Timm about Batman Year One and the Catwoman short. They're out today.
Robert Downey Jr. spoke to Access Hollywood (via CBM) about The Avengers trailer and calls Iron Man 3 the best of the series.
In addition to talking about Captain America 2, I Am Rogue's interview with Neal McDonough spoke about doing the voice of the Green Arrow and revealed discussions were held about a live action version:
We talked about a live action version but unfortunately the other two green movies (Green Hornet, and Green Lantern) may have put a stop to it, who knows? We're not sure. But Green Arrow is a character that is just so funny, and has such a dry sense of humor but is still a bad ass at the same time. I think of all the green superheroes, and now offense but even Hulk included, I think there is something about Green Arrow being such a smart ass and yet such a big tough guy. He only uses arrows but the way he uses those arrows is pretty amazing. I think it would be an awesome film to do and ultimately hopefully we'll get around to doing it.
Due to the amount of graphics and images included in Superhero Bits, we have to split this post over TWO pages. Click the link above to continue to the second page of Superhero Bits.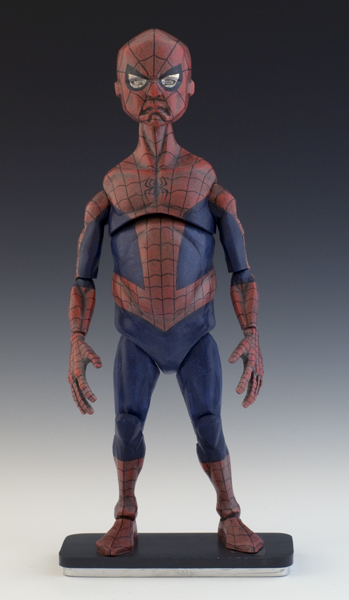 Sculptor Calvin Ma has created this creepy, but cool, bobblehead-esque superhero sculptures. He's got Spider-Man, Batman, Wolverine and others. Head to Calvinmassculpts (via Geek Tyrant) for more.
Kevin Feige spoke to Marvel.com about how Captain America: The First Avenger was originally going to be set both in the past and present. There's also a quote about how important it it was for Cap to be a leader going into The Avengers. Here's Feige, head there for more:
We developed a script that took place half in the '40s and half in present day, but it felt like both sides were getting the short shrift. In a conversation with [director] Joe [Johnston], he was very much in support of a full period [film]. And because it is an origin story and an initial adventure, it made sense. Frankly, because there are so many other comic book movies out there, we knew that would help the film stand apart as long as we stayed true to the source material and his origin.
Get More: Movie Trailers, Movies Blog
Mark Ruffalo spoke to MTV about The Avengers and says the Hulk isn't exactly a team player.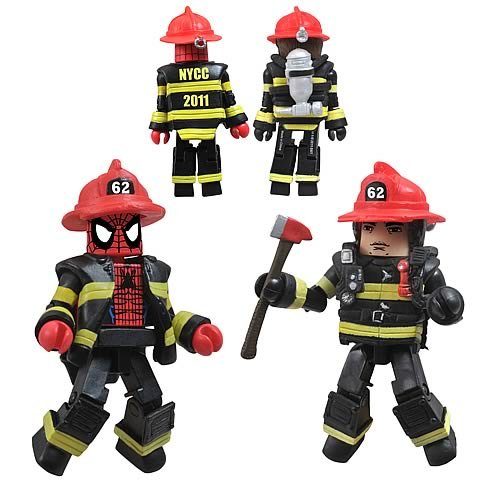 This New York Comic-Con Minimates exclusive paid tribute to New York City Firefighters. Now you can preorder the Spider-Man figure at Entertainment Earth.
Screenrant has a report on a Smallville retrospective that screened at New York Comic-Con and will be on the upcoming complete series DVD.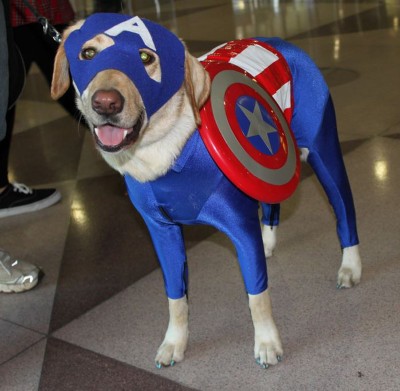 Fanboy.com posted this photo of a Captain America dog. In case you couldn't tell what it was from the photo.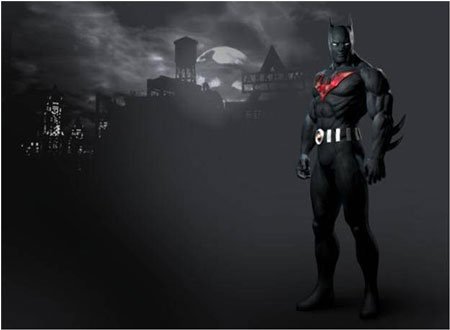 If you want to play as Batman Beyond in Batman: Arkham City, out now, you'll have to buy Nos Energy Drink. Head to Comic Book Movie for more info.
THE FINAL BIT IS A POTENTIAL SPOILER FOR THE DARK KNIGHT RISES.
3.
2.
1.
[No photo]
EyePrime (via CBM) has posted some really gorgeous photos of the Batwing flying over the streets of downtown Los Angeles in The Dark Knight Rises. Head there for more images.