'W.E.' Trailer - Madonna's Second Directorial Effort Looks Pretty, And Pretty Silly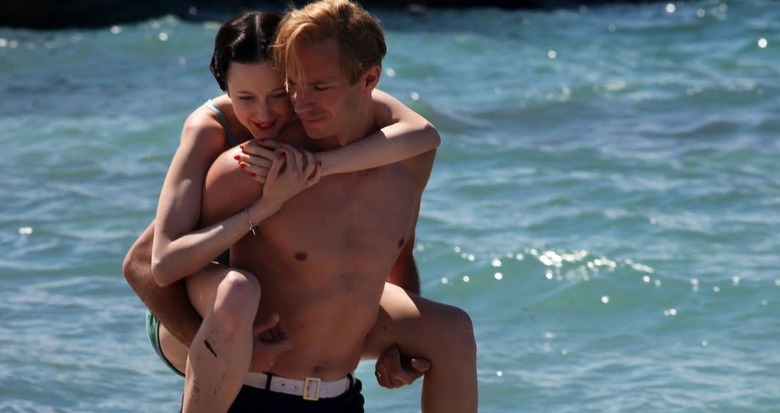 Madonna's first directorial effort — 2008's Filth and Wisdom — wasn't exactly well received, but you don't get to be a pop icon of her magnitude without thick skin and a lot of persistence. The multihyphenate returned to the director's chair this year for W.E., a drama consisting of two interlocking tales: one, the very well-known historical romance between Wallis Simpson (Andrea Riseborough) and King Edward VII (James D'Arcy); the other, a contemporary affair between a married New Yorker (Abbie Cornish) and a museum guard (Oscar Isaac). Watch the first trailer after the jump.
[via The Hollywood Reporter, Women and Hollywood]
The trailer ends with a card saying W.E. is "in post production," so it may not be fair to call this an official trailer. Still, it seems to offer a good glimpse at what the movie has to offer. And what we can expect, apparently, is pretty (if not especially original) imagery, along with some regrettable cheesiness. I'm not the only one who had to stifle a laugh when those pearls come flying off Cornish's necklace, am I?
W.E. drew mostly bad reviews on the festival circuit earlier this year, with critics calling it "extraordinary silly," with "risible dialogue and weak performance" — though on the plus side, most conceded it was beautiful to look at, and at least one reviewer believed it to be "exquisitely done." Just going off of this trailer, it's easy to understand both the criticism and the praise.
The Weinstein Co. will release W.E. December 9.
Synopsis:
W.E. tells the story of two fragile but determined women – Wally Winthrop and Wallis Simpson – separated by more than six decades. In 1998, lonely New Yorker Wally Winthrop (Abbie Cornish) is obsessed with what she perceives as the ultimate love story: King Edward's VIII's abdication of the British throne for the woman he loved, American divorcée Wallis Simpson. But Wally's research, including several visits to the Sotheby's auction of the Windsor Estate, reveals that the couple's life together was not as perfect as she thought. Weaving back and forth in time, W.E. intertwines Wally's journey of discovery in New York with the story of Wallis (Andrea Riseborough) and Edward (James D'Arcy), from the glamorous early days of their romance to the slow unraveling of their lives in the decades that followed.