Paul Wernick And Rhett Reese Writing 'Micronauts' For J.J. Abrams And Paramount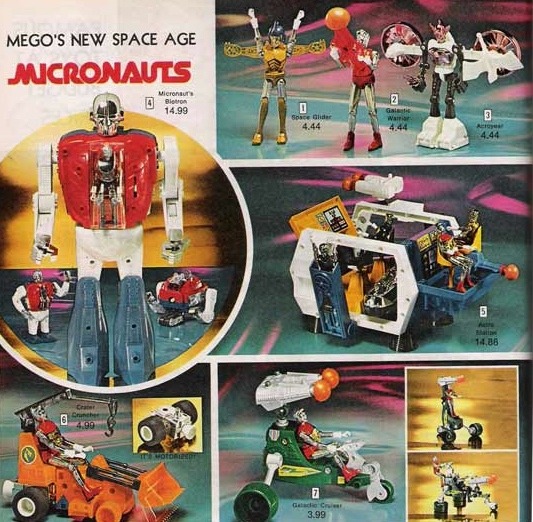 They broke out with Zombieland, penned a sequel to G.I. Joe, have a superhero script under their belt as well as a possible directing gig and now Paul Wernick and Rhett Reese are going to write about giant toy robots. Deadline reports the duo will write a script for Micronauts, a Hasbro-owned toy brand that blends robots with interchangeable parts. Think Transformers but with Legos or Erector sets. J.J. Abrams has been flirting with producing a film in this world since 2009 and now he'll do just that, with Paramount at his side. Read more about the Micronauts after the jump.
In the Deadline story, they mention Micronauts was "one of the Hasbro brands mentioned as a priority movie project in a third quarter earnings conference call done for investors today by Hasbro CEO Brian Goldner." That's the same call that alerted everyone Hasbro wants Michael Bay back to do a fourth Transformers.
Micronauts is seems pretty similar to that franchise, but way less popular. Here's what Peter wrote about them in 2009:
First released in Japan in 1974, the toys were later imported to the U.S. in 1976. The line consisted of 3.75-inch tall action figures, vehicles, robots, play sets, and accessories which used a universal, five millimeter inter-connective design. It should also be mentioned that a series of Micronauts comic books were published by Marvel Comics and Image Comics. The original series was written by Bill Mantlo and featured art by Michael Golden, Howard Chaykin, Pat Broderick, Gil Kane, Butch Guice and others.
According to the comic book created storyline, the Micronauts originate in the Microverse, "a microscopic series of diverse habitats that are linked together in the fashion of molecule chains. The original team comes together in response to the threat posed by former academic and now murderous dictator, Baron Karza. Commander Arcturus Rann (returning from a thousand-year deep space voyage in suspended animation) and Biotron, his robot co-pilot, return on the HMS (Homeworld Micro Ship) Endeavor, to discover Karza has slain the royal family, who are in fact Rann's parents. What follows is an epic war across the Microverse: Rann and his allies against Karza."
It sounds like a whole bunch of other things we've already seen but Abrams' involvement has me wondering what makes Micronauts so special. Is this something you're excited about? How about with Miller and Wernick at the keyboard?