Commerical Director Nicolai Fuglsig To Direct 'Brass Monkey' For Paramount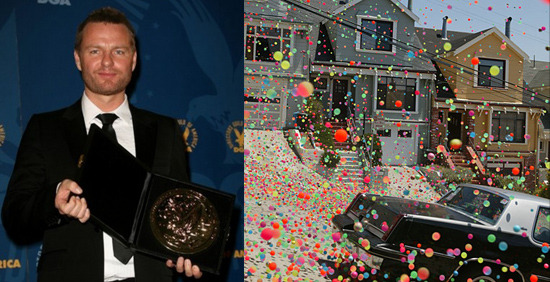 Nicolai Fuglsig is an award-winning photojournalist and commercial director who created an internet sensation when he directed a commercial for Sony's Bravia line of televisions, in which a quarter-million bouncy rubber balls were poured down San Francisco streets. In 2009 Fuglsig was linked to a futuristic Robin Hood film at Warner Bros., and he's been attached to other features as well. None have yet come to fruition, but he's still working towards a feature directorial gig.
His latest attachment is a film called Brass Monkey. It's not a feature version of an early Beastie Boys song. (You make the call as to whether that's a good thing or not.) This is a thriller set up at Paramount based on Fuglsig's own pitch.
Deadline calls the film "a real-time kinetic thriller that takes place during a killing spree in Los Angeles." Real-time, huh? It's not enough to tackle the normal difficulties of pacing, story and character — have to add in the extra layer of difficulty inherent in making a film that takes place in real time.
Here's a piece of art the director made to accompany his pitch to Paramount. Nice piece of work, if nothing else. Brian Horiuchi has been set to write, so this one probably won't happen any time soon. (One Deadline commenter says Horiuchi is rewriting a draft by Paolo Marinou-Blanco, and if correct this might happen sooner than if a script has to be started from scratch.)
Update: Indeed, the original script was written by Paolo Marinou-Blanco based on Fuglsig's idea; Brian Horiuchi will rewrite that draft.
You can get a taste of Fuglsig's commercial work in this post Peter assembled in 2009.