More 'Back To The Future' In Real Life: Electric DeLoreans Coming In 2013 [UPDATED]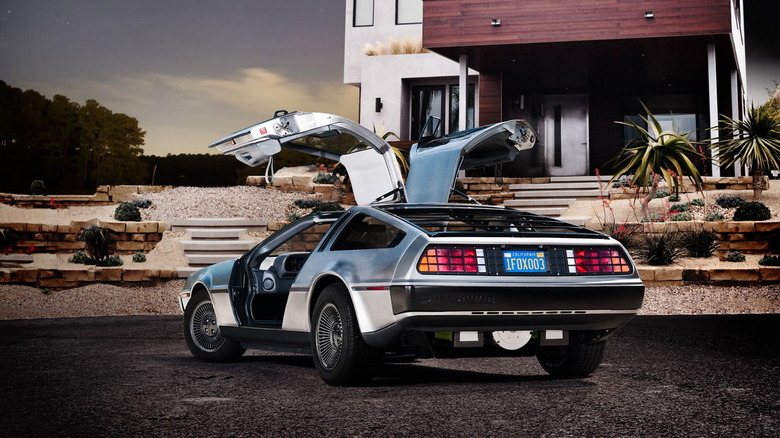 UPDATE: DeLorean has released the specs and cost of the DMCEV. They're after the jump.
If you thought Back to the Future Nikes were cool, you're about to see some serious s***. At the International DeLorean Owners Event in Houston, Texas last week, DeLorean Motor Company announced a partnership with electric car company called Epic EV. The intent is to mass-produce a fully electric DeLorean called the DMCEV by 2013. That's an image of one above. See another photo and read more about the vehicle after the jump.
The news came via Jalopnik.com who also provided the two photos below. Click on each for a larger image.
The story is as follows. Stephen Wynne bought the DeLorean Motor Company in 1995. Since then, the DMC has been repairing, restoring and selling old DMC-12 parts, probably mostly to Back to the Future collectors. They'll also build you a brand new DeLorean if you want, using 80% old parts with 20% new technology. They've now teamed up with a start up company called Epic EV to begin creating a full electric, brand new DeLorean that should go into production in 2013. According to Jalopnik, no specs or prices have been unveiled – this was just a preliminary announcement – but it might be close to Epic EV's latest car:
The companies haven't released any specs yet, but if it's anything like Epic EV's Torq Roadster, it'll get a 200 hp+, 44V/156V electric motor, powered by a 24-30 KWh lithium ion phosphate battery. Sure, it's bit low on jiggawatts right now, but the companies have two years to get that sorted out.
Recently we saw fans and celebrities alike spending thousands, sometimes tens of thousands, of dollars on shoes that looked like they were from Back to the Future. It's pretty obvious those people would spend even more to have an environmentally safe, fully functioning, modern DeLorean that still looked like it did in the classic 1985 Robert Zemeckis film. Seems to me like this is an incredibly smart business move by both companies, do you agree?
Additional source: Geekologie
UPDATE: DeLorean updated their website with the official specs (via MSN). The car will cost between $90-$100,000, go about 125 MPH and have 260 horsepower. Here are the other specs: