Joe Cornish Approached For Possible 'Attack The Block' Remake, Spin-Off, And/or Sequel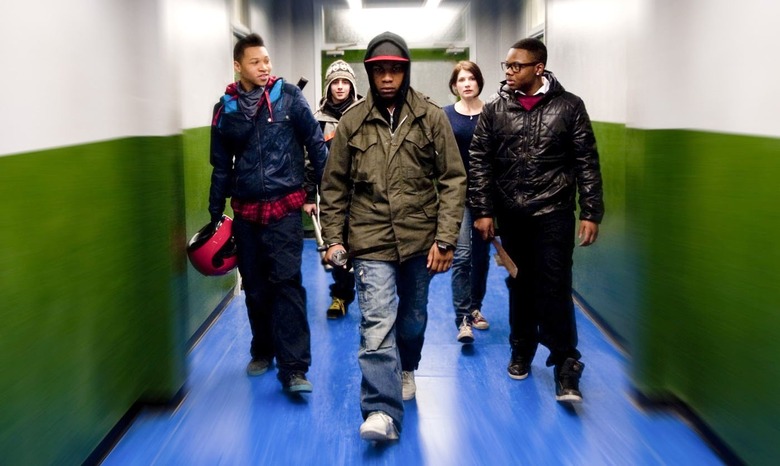 Joe Cornish's insanely entertaining sci-fi-action-comedy Attack the Block was one of the best features I saw this summer, and at just 88 minutes, it was also one of the shortest. Though the brief runtine helped keep the story — about South London hood kids defending their housing complex from an alien attack — taut and fast-paced, it also had the downside of leaving me wishing I could've spent a little more time with Moses and the gang.
Now it seems my wish may actually be coming true, but I'm not sure how to feel about it anymore. Cornish revealed in an interview at New York City Comic-Con that he has in fact been approached to do a possible American remake, sequel, and/or TV spin-off of his original film, though he was careful to stress that any potential follow-ups were still in the "very early days." More details after the jump.
If a sequel were to happen, however, Cornish already has a couple of ideas lined up — as does star John Boyega. Cornish outlined one possible plotline he'd discussed with the actor:
[Boyega] keeps coming up with amazing ideas. He has this image of a bigger alien attack on London, as if the wave we saw in 'Attack the Block' was just the [first] wave and there's another wave of bigger creatures. And he described to me this image of Moses leading a whole army of hood kids across the Thames, next to the houses of Parliament... No, his image was even better. He had an image of Moses on a police horse. You know the police in London who have those horses they use in riots — somehow Moses has got onto one of those horses. So he's on a horse leading this army of South London kids across the river to take on this bigger wave of aliens. So yeah, it's really fun to think of stuff like that and think of what we could do.
Who knows if Cornish will end up using that scene, but it sounds fun. I would absolutely love to see Moses leading a big charge while atop a police horse.
I'm less sure how I feel about the TV spin-off, as I'm having trouble envisioning it, but it's the remake I really feel conflicted about. My knee-jerk reaction is to be against it, since the first movie was such a delightful gem that I don't see the point in trying to recreate it. But then again, not all remakes are bad, so I suppose I should withhold judgment until the project develops further.
Attack the Block hits Blu-ray and DVD October 25. Head over to our previous story for a list of its special features.