'The Woman In Black' UK Trailer Offers Fewer Creepy Monkey Toys, More Plot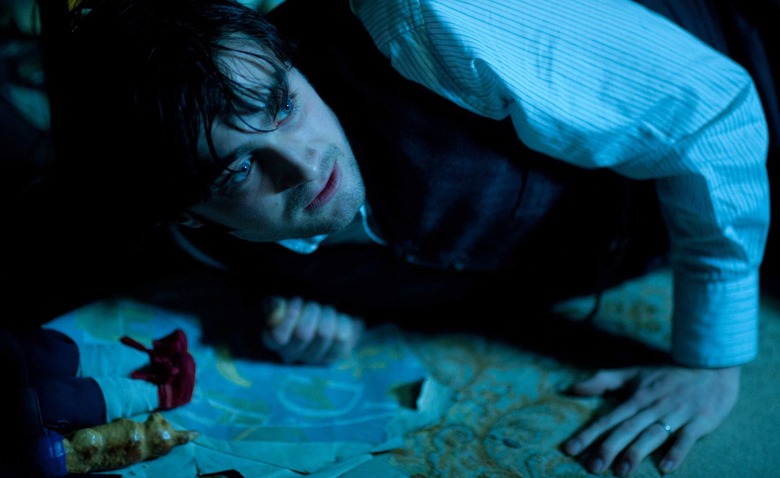 The last trailer we saw for The Woman in Black was heavy on atmosphere but light on plot, deploying shots of run-down toys, some mysterious little girls, and a terrified-looking Daniel Radcliffe to set an effectively creepy mood. The newer UK trailer is somewhat more straightforward, offering fewer shots of eerie monkey toys but a much better idea of the actual story.
Radcliffe stars as young lawyer Arthur Kipps, who travels to the countryside in order to settle the affairs of a recently deceased client. Once there, he encounters the spectre of a woman hell-bent on revenge. The period horror was directed by James Watkins (Eden Lake) from a screenplay by Jane Goldman (Stardust, Kick-Ass), which in turn was adapted from Susan Hill's 1983 novel. Ciarán Hinds, Janet McTeer, and Roger Allam also star. Watch the trailer after the jump.
[via First Showing]
Though Radcliffe has appeared in a handful of projects since boarding the mega-successful Harry Potter franchise way back in 2001, The Woman in Black marks his first real post-Potter appearance — and therefore one of his first opportunities to make a name for himself outside of just being the Boy Who Lived. We'll have to wait and see how the actual movie is, but watching the trailer, it's both refreshing and a tiny bit weird to see him playing an actual grownup who appears to be nothing like Harry Potter. Especially when he starts talking about his kid.
Hill's original book is considered one of the classic ghost stories, and has previously been adapted into a well-received TV movie and a popular stage play. That pedigree, combined with a nicely chilling trailer and Goldman's involvement, has me optimistic that The Woman in Black will be a solid entry into the horror movie genre.
CBS Films is releasing The Woman in Black in the U.S., with an opening date of February 3, 2012. The film opens in the U.K. February 10, 2012.