'Alvin And The Chipmunks: Chipwrecked' Trailer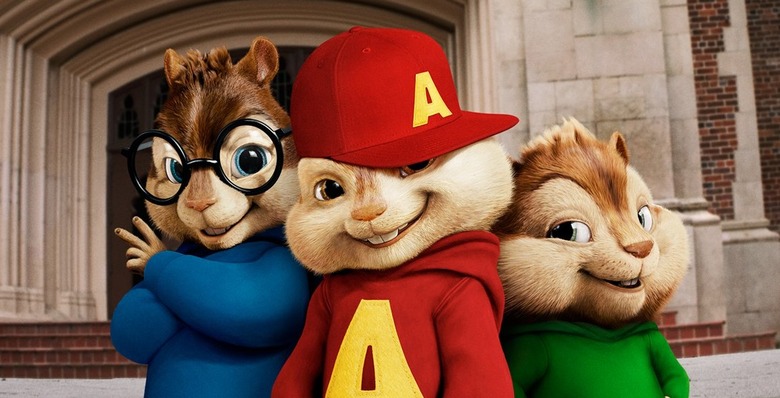 Most days, I love my job. Other days, I'm forced to watch the trailer for Alvin and the Chipmunks: Chipwrecked. Yep, the squeaky-voiced CGI hellions are back for a third installment of their regrettably successful film franchise. Justin Long, Matthew Gray Gubler, and Jesse McCartney return as the Chipmunks, along with Anna Faris, Christina Applegate, and Amy Poehler as the Chipettes and Jason Lee and David Cross as human beings. Watch the trailer after the jump.
[via Coming Soon]
I'm admittedly biased here – I tend to hate CGI creature covers of outdated pop hits, and this trailer contains no fewer than three of them — but I really have nothing positive to say about this trailer. Normally, my curiosity would be piqued by the presence of talents like Poehler, Faris, Applegate, Cross, and so on. In this case, it just depresses me to see their names on the cast list. I suppose I shouldn't begrudge them the opportunity to make easy money, but exactly how much easy money do they need? Let's just hope they at least put the ill-gotten gains to charity or something.
All my complaints aside, it's certainly not surprising that Fox would choose to make a third Chipmunks movie. The first two were massive hits, with Alvin and the Chipmunks pulling in $361 worldwide on a $60 million budget, and Alvin and the Chipmunks: The Squeakquel earning $443 on a $75 million budget. Those aren't numbers they can ignore, no matter how awful the actual films might be. If Chipwrecked does well, and it likely will, we can probably look forward to another sequel in another couple of years.
Here's the Lost-esque plot synopsis:
The vacationing Chipmunks and Chipettes are turning a luxury cruise liner into their personal playground, until they become 'chipwrecked' on a remote island. As the 'Munks and Chipettes try various schemes to find their way home, they accidentally discover their new turf is not as deserted as it seems.
Directed by Mike Mitchell (Shrek Forever, Deuce Bigalow: Male Gigolo), Alvin and the Chipmunks: Chipwrecked hits theaters December 16.
Discuss: Was this experience more or less painful than watching the Smurfs trailer? I say more, if only because the Chipmunks' voices are slightly more annoying. Or am I being too harsh? Also, serious question: I remember enjoying the cartoons as a kid. Were they always this obnoxious and I was just too young to notice, or do these movies do a serious disservice to a once-beloved show?