'Shame' Trailer - Will McQueen And Fassbender's Second Collaboration Live Up To The Hype?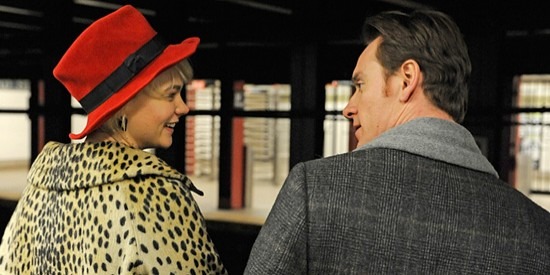 We've been hearing so much about Steve McQueen's Shame over the past year — we've seen clips, posters, and stills; we've heard all about the film's very graphic nature and the searing performances by leads Michael Fassbender and Carey Mulligan — that I almost forgot we had yet to see an actual trailer.
The first one has finally dropped today, and while it's obviously impossible to tell whether a movie is good just by seeing a two-minute video, the trailer, at least, looks utterly compelling. Watch the video (which, unlike the movie, is SFW) after the jump.
[via The Playlist]
Shame centers around a New Yorker named Brandon (Fassbender) who avoids intimacy but is compulsively addicted to sex. When his troubled younger sister (Mulligan) comes to stay with him in his apartment, he finds his orderly life disrupted by her presence and reminders of their unhappy past. Though it is, by all accounts, a powerful character-driven drama, it's gained some notoriety for reports of its rather explicit portrayals of "male and female full-frontal nudity, graphic depictions of straight/gay/threeway sex, masturbation, urination," and more.
The film has been working the festival circuit over the past couple months, starting with its September debut at the Venice Film Festival, and has been receiving glowing reviews so far. Fassbender in particular has been drawing heaps of praise for his "brilliant" performance, though Mulligan has been getting her fair share of compliments as well. The drama marks Fassbender's second time working with McQueen, who previously directed him in the acclaimed Hunger. It was recently announced that the two would be collaborating a third time, in 12 Years a Slave with star Chiwetel Ejiofor.
Fox Searchlight picked up the NC-17 Shame during the Toronto Film Festival, and has set a U.S. release date of December 2. Brits will get their chance to see it January 13, 2012.