TV Bits: 'Ringer', 'Prime Suspect', And 'Suburgatory' Get Full Season Orders, HBO Developing 'Kids Are All Right' Series, Disney Greenlights Musical Zombie Sitcom, Tricia Helfer Lands K-9 Pilot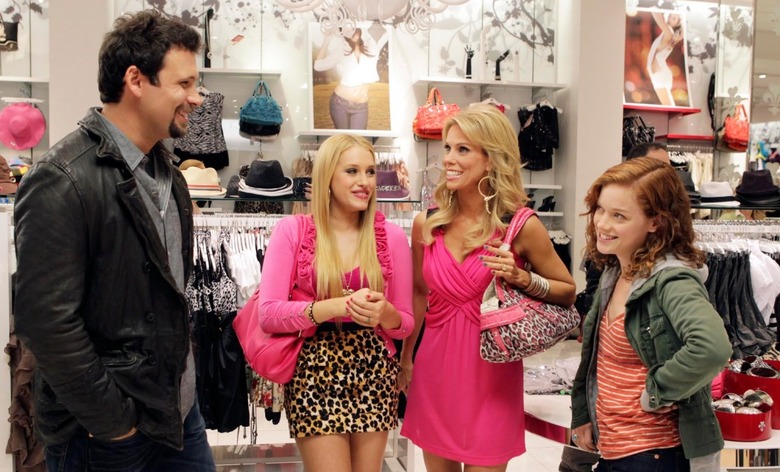 Today's edition of TV Bits isn't just a mixed bag, but a jam-packed one. Happily, it's nothing but good news all around as networks order more episodes of some promising rookie shows and get to work developing other intriguing series for next season. After the jump:
ABC orders more Revenge, Suburgatory, and Happy Endings
The CW gives full-season orders to Ringer, The Secret Circle, and Hart of Dixie
NBC orders six more scripts for Prime Suspect
HBO plans an hourlong TV version of The Kids Are All Right
Disney gives the go-ahead to a musical zombie sitcom
TNT casts Battlestar Galactica star Tricia Helfer in a K-9 pilot
Meanwhile, over at The CW, all three first-year dramas — Ringer, The Secret Circle, and Hart of Dixie — have received full-season orders. Ringer, which stars Sarah Michelle Gellar, and Hart of Dixie, which stars Rachel Bilson, have helped expand The CW's viewership by raising the median age of the audience. Meanwhile, supernatural teen series The Secret Circle makes a natural fit for the network's other, more youth-oriented shows like Gossip Girl and its lead-in Vampire Diaries.
And NBC, whose cancellation of The Playboy Club was one of the first of the new season, has ordered six more episodes of the Maria Bello-starring drama Prime Suspect. The Thursday evening series has drawn steady, if "relatively modest," ratings, but should receive more exposure now that it's airing repeats in The Playboy Club's old Monday night timeslot. [Variety, here and here]
Now that we've gotten all the existing series, let's move into more theoretical territory.
We've reported a lot of news lately about television shows planning to make the jump to the big-screen, but inspiration works the other way, too. HBO has struck a deal to develop an hourlong series based on The Kids Are All Right, which earned a Best Picture nod at last year's Oscars. The pilot will be written and executive produced by Lisa Cholondenko, who co-wrote and directed the original film, and will pick up where the movie left off with the same five characters — lesbian couple Jules and Nic (played by Julianne Moore and Annette Bening in the movie), their kids Joni and Laser (Mia Wasikowska and Josh Hutcherson in the film), and the children's biological dad Paul (originally played by Mark Ruffalo).
Gay characters on television still tend to be relatively rare, but shows like this one could help change the landscape in the upcoming seasons. The news comes shortly after Showtime announced its plans to develop an as-yet-untitled drama with Precious director Lee Daniels about the LGBT youth scene known as ball culture. [Deadline]
Given that I've long since soured on Glee, have begun suffering from zombie fatigue, and am not twelve, perhaps I shouldn't find this premise quite so charming — but somehow this idea strikes me as pretty inspired. Disney Channel has given the greenlight to a pilot for Zombies and Cheerleaders, a musical sitcom about an undead teen named Zed Necrodopolis who wants to get in with a cool crowd of cheerleaders at his high school. The series is being executive produced by Eric Weinberg, who previously worked on Scrubs and Californication.
If Disney decides to pick up the series, Zombies and Cheerleaders will likely bow in 2012. Mock all you want, but I will absolutely be there to watch it. [Variety]
Battlestar Galactica star Tricia Helfer will lead the cast of TNT's Scent of the Missing, based on Susannah Charleson's nonfiction book about her time as a K-9 Search and Rescue volunteer. Helfer will play Susannah, while Gerald McRaney has signed on to co-star as her father Jerry. The part of Puzzle, Susannah's adorable golden retriver partner, has yet to be cast.
The real-life Charleson and Puzzle got their start in the wake of the Oklahoma City bombings, when Susannah became so moved by an image of a canine handler at work that she decided to adopt and train Puzzle. Today, the two continue to work at finding the lost — including abducted children, drowning victims, and Alzheimer's patients. Charleson's book was published last year.
The project will be co-written and executive produced by Carol Mendelsohn (CSI, CSI: Miami, and CSI: New York) with Melissa R. Byer and Treena Hancock. [Deadline]