Bret Easton Ellis Says Roger Avary Will Direct 'Glamorama' Next Year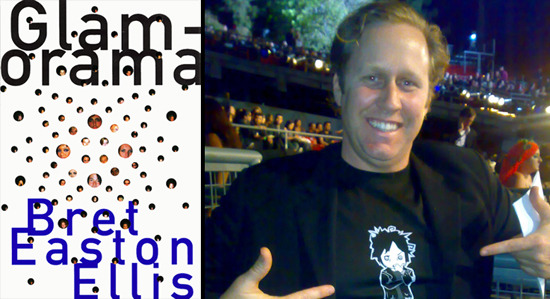 The association between author Bret Easton Ellis and screenwriter/director Roger Avary goes back a decade. Avary directed a film version of the Ellis novel The Rules of Attraction, released in 2002, and used footage shot for that film to create another movie, Glitterati, which is tangentially related to The Rules of Attraction.
Glitterati has never officially been released, and probably never will, which I'll get into in a minute. But that film was intended as connective tissue between The Rules of Attraction and the adaptation of another Ellis novel, Glamorama, which Avary has planned to write and direct for many years. Now Bret Easton Ellis says the Glamorama script is done and will be directed by Avary next year.
First, the news. Last night, Ellis said via Twitter,
Just finished reading Roger Avary's adaptation of "Glamorama" which he will direct next year. Hilarious, horrific, sad. He's a mad genius.
Does this mean we'll actually see Glamorama in 2013? I'm not holding my breath. The property has been in Avary's hands since 2004, and we haven't even mentioned it since March 2008. But Avary had a little bit of legal trouble from 2008 to 2010, and with that behind him perhaps he'll be able to push this forward. The existence of a finished script that Ellis loves is a good sign, at least.
And then there's the whole Glitterati thing, which is worth getting into. That was a largely improvised film featuring Kip Pardue in his The Rules of Attraction role of Victor Ward. (That same character is the lead in Glamorama.) The movie is a recap of Ward's time in Europe, as mentioned in Rules. Reportedly it basically consists of Purdue constantly being in character, hanging out with and seducing women who, as the story goes, were never told they'd be in a movie. Avary supposedly called the film "ethically questionable," though I can't find an online citation for that quote.
In a recent interview with the AV Club, however, Ellis said,
You can't really show Glitterati in public, it's not possible. There are a lot of people who would be very upset. I don't even know if they got permission from a lot of the people in it, which might be a big problem, why it's only shown privately.
Doesn't that just make you want to see Glitterati more, even if it might not be particularly good? Sure does for me.
Here's a synopsis of Glamorama:
Ellis's (The Informers) bad trip through glitterary New York has everything his fans (and critics) have come to expect: graphic sex, designer drugs, rock 'n' roll allusions, splatterpunk violence and characters as deep as 8"x10" glossies. Protagonist Victor Ward, a "model-slash-loser," is opening his own trendy Manhattan club while cheating on his supermodel girlfriend and back-stabbing his partner. After some adventures in clubland, the plot takes a turn for the paranoid. Victor is recruited by a mysterious figure, F. Fred Palakon, to track down a former girlfriend gone missing in London. There he becomes unwillingly drawn into a terrorist group?run, like so much else in the novel, by a supermodel?that bombs fashionable hangouts, hotels and jetliners.